Red Wings Fall 3-2 in OT To Blue Jackets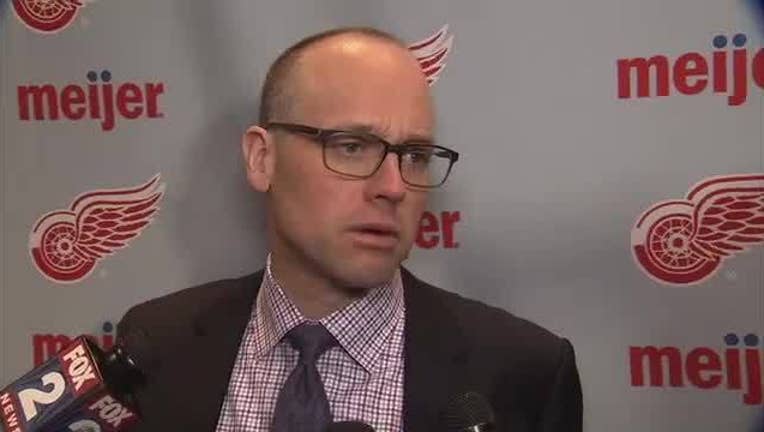 article
DETROIT (AP) - The young Columbus Blue Jackets, running among the NHL leaders for the first time, are learning lessons every day in the art of winning.
They passed another test Tuesday night, this one about not taking lesser teams lightly.
Seth Jones took a drop pass from Brandon Dubinsky and blasted a high slap shot behind goalie Petr Mrazek 3:22 into overtime and the Blue Jackets beat the Detroit Red Wings 3-2.
The win followed a 5-1 thumping handed to them by the New Jersey Devils on Saturday. The Blue Jackets ended an 0-1-1 skid and haven't lost three straight games yet this season.
"It is a battle of attrition at this point of the schedule, and these guys are starting to understand how tough it is going to be," Columbus coach John Tortorella said. "It is easy to play when you are out of it, but this is totally different."
Detroit snapped a two-game winning streak and fell to last overall in the Eastern Conference, but the team was more upset by a play just seconds prior to the winning goal.
Red Wings captain Henrik Zetterberg made a move with the puck toward the Blue Jackets net but had his stick snapped by a slash from Dubinsky. The Wings thought a penalty should have been called.
"There was no penalty," Zetterberg said "Figure that out. It's frustrating.
"In my eyes that is a penalty," he added, "but they decided not to call it."
Nick Jensen got his second career goal, both in the last four games, and Thomas Vanek added a tying score midway through the second period for Detroit. Mrazek made 24 saves.
Dubinsky and Cam Atkinson also scored for the Blue Jackets, and Sergei Bobrovsky stopped 24 shots.
"There are about 30 games left, and every team is making their postseason push, so we know we're going to get everyone's A-game every night," Jones said. "We were coming off a bad loss to New Jersey, and we had to step up."
The Red Wings have given up the first goal 31 times this season, but Jensen gave them an early lead. He took a cross-ice feed from Dylan Larkin and drilled a slap shot past Bobrovsky just 3:22 in.
Near the midpoint of the period, Dubinsky threw a seemingly harmless shot from the corner toward the Detroit net. The puck bounced off the leg of Red Wings defenseman Xavier Ouellet, and then Dubinsky swatted it out of the air and past Mrazek.
The Blue Jackets claimed the lead at 15:56 of the opening period when Dubinsky fed a trailing Atkinson as he entered the zone, and Atkinson whipped a low shot through Mrazek's legs.
Detroit's NHL-worst power play, operating at a dismal 11.3 percent, tied it nine minutes into the second period on a two-man advantage when Vanek redirected a hard pass from Justin Abdelkader from the edge of the crease.
NOTES: NASCAR driver Brad Keselowski, a big Wings fan who grew up in the Detroit suburbs, was at the game and took a ride on the Zamboni wearing a No. 2 Red Wings jersey. Kesolowski drives the No. 2 car. ... Detroit defenseman Niklas Kronwall missed his second straight game with a lower-body injury . ... Blue Jackets defenseman David Savard missed his fourth consecutive game due to an undisclosed injury.
UP NEXT
Sabres: Host Vancouver on Thursday night to begin a seven-game homestand.
Red Wings: Play at Washington on Thursday night to launch a three-game road trip.