Royals' bats come alive in 15-7 blowout of struggling Tigers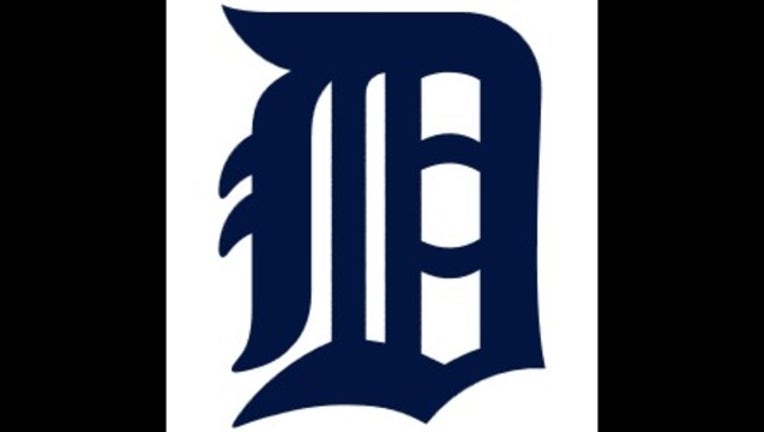 article
KANSAS CITY, Mo. (AP) — Lorenzo Cain hit a three-run homer, Paulo Orlando added a two-run shot and Kendrys Morales drove in four runs as the Kansas City Royals routed the Detroit Tigers 15-7 on Thursday night to wrap up another series win.
Ben Zobrist drove in two runs for the Royals, whose 15 runs and 20 hits were their most since piling up 21 hits in a 16-8 victory at Colorado on July 3, 2011.
Chris Young (10-6) earned the win with two scoreless innings in relief of Edinson Volquez, who yielded six runs, eight hits and a walk in three innings.
Volquez still outpitched Matt Boyd, who was hammered for six runs before getting the hook four batters into the second inning. The last batter he faced was Cain, whose skyscraping homer barely cleared the wall in left field on its descent for his second home run in as many nights.
Reliever Kyle Ryan (1-3) was tagged with the loss as Detroit pitchers allowed 61 runs during a 1-5 trip through Toronto and Kansas City, two teams in the thick of the playoff hunt.
Nick Castellanos drove in three runs for the Tigers while James McCann drove in two.
After dropping the series opener, the Royals managed 34 hits and 27 runs in taking the next two games. That allowed the AL Central leaders to extend their unbeaten streak to eight straight series.
Perhaps coincidentally, their offense came alive in the two games that Jonny Gomes started after his arrival in a trade from Atlanta. Gomes had an RBI double on Wednesday night and two hits on Thursday night, including another run-scoring double.
All told, the teams combined for 34 hits while leaving 18 on base in a game that lasted 3 hours, 58 minutes. The first inning alone included 76 pitches — 38 each side — along with seven hits, five runs and two visits from pitching coaches during a 46-minute marathon.
Detroit scored three times in the first, including Anthony Gose's leadoff homer, only for Kansas City to answer with two runs in the bottom half. The Royals scored four in the second, and the Tigers knotted the game 6-all by stringing together a series of hits in the third.
Both starting pitchers had been discarded by that point, and it came down to which team had the better bullpen. The Tigers kept faltering while Kansas City buckled down.
TRAINER'S ROOM
Tigers: RHP Anibal Sanchez (rotator cuff strain) reported no problems throwing from 90 feet before the game. He will try from 120 feet on Friday. "Baby steps," Sanchez said.
Royals: The Royals have had no more cases of chickenpox after RHP Kelvin Herrera and RF Alex Rios were diagnosed last weekend, manager Ned Yost said.
UP NEXT
Tigers: LHP Kyle Lobstein makes his first start since late May in the opener of a three-game set against Cleveland. He had been out with a sore left shoulder.
Royals: RHP Kris Medlen continues his quest for a spot in Kansas City's postseason rotation in the opener of a three-game series against the White Sox.