Stafford Doesn't Sound As If He Will Give Detroit Discount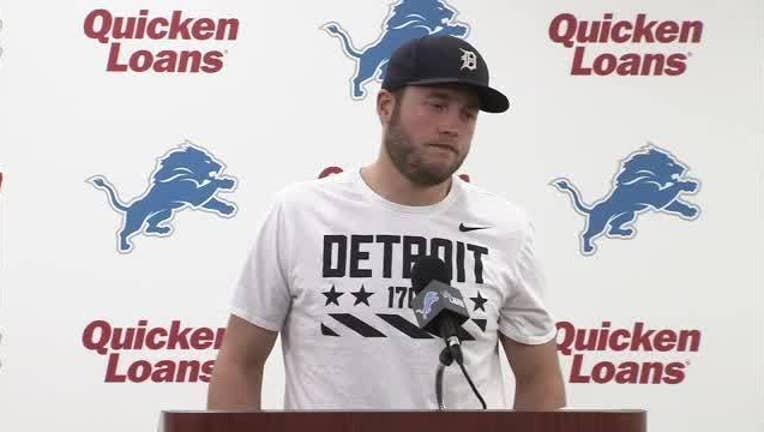 article
ALLEN PARK, Mich. (AP) - Matthew Stafford is in line to sign a contract extension that will set up his newborn twins for life.
The quarterback said "his people," are talking to the Detroit Lions' "people," and he hopes they can agree on a long-term deal that's good for his growing family and the team.
Stafford is entering the last season of his $53 million, three-year contract. He might be able to get more than the $140 million, six-year deal Andrew Luck signed last year with the Indianapolis Colts.
And it doesn't sound as if the 29-year-old Stafford is willing to give Detroit a discount to help the franchise have more money to spend on other players.
"Every year, teams find ways to put good teams around good quarterbacks." Stafford said Tuesday following a workout with teammates. "You see it every year. I'm not too worried about that. I know that the salary caps and all that kind of stuff is malleable as you want it to be. I think you just go and try and make a good decision for not only the player, but the team."
Stafford's team at home in suburban Detroit grew by two on March 31 when his wife, Kelly, gave birth to twin daughters , Chandler and Sawyer. He is enjoying the wonders of being a new dad and said he's changing diapers pretty well, joking the girls are not old enough to give him much feedback.
Detroit drafted Stafford No. 1 overall in 2009 and gave him $41.7 million in guarantees as part of a six-year contract worth $78 million coming out of Georgia. After injuries stunted his first two seasons, Stafford played in every game the next six years. He has helped the team reach the playoffs three times, including last season, but has not won a playoff game for a franchise that has only one postseason victory since 1957.
Lions general manager Bob Quinn, entering his second season in charge, wants to keep Stafford part of the franchise's future beyond this year.
"These things usually don't happen in April and May," Quinn said at the scouting combine last month. "That's not a realistic timeline for an extension for a quarterback. That's something we do have on the agenda. ... It's a priority, but it takes two sides to do a deal. I'm not making any promises one way or another, but I've always said since I've gotten here that Matthew is a good quarterback and I'd like to have him here long term."
The feeling, it seems, is mutual. Stafford said he would "love to" sign a long-term deal.
"I've had a really good time playing here," he said.
Stafford has talked to Quinn and coach Jim Caldwell about his contract situation, but insisted he doesn't get involved with talks his agent, Tom Condon, has with the Lions.
"Their people are talking to my people and we'll see what happens," he told reporters. "I'm not involved as much as you guys would like me to be."
Stafford played hurt last season, injuring the middle finger on his right hand. He was able to throw with the ailment, protecting it with a splint, to give teammates one more reason to respect him.
"We got a tough quarterback, no doubt about it," receiver Golden Tate said. "The guy is as tough as nails."
Stafford said rest, not surgery, was all he needed for the finger to heal.
"Threw today, so it feels fine," Stafford said after the team's second day of offseason workouts.
NOTES: The Lions signed restricted free agent OT Cornelius Lucas after he played in 35 games, starting six, over the previous three years. ... The Lions also signed DE Kerry Hyder, WR TJ Jones and DE Brandon Copeland to exclusive rights tenders.