Twins overtake Tigers 4-2 behind strong start from Berrios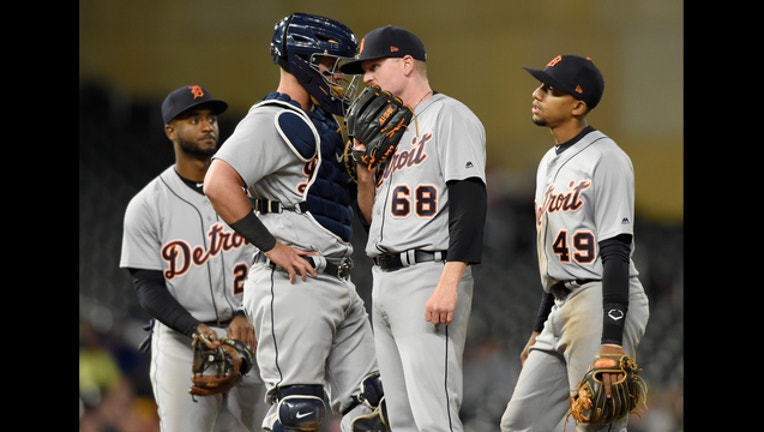 article
MINNEAPOLIS (AP) - While Jose Berrios struggled through a four-start stretch that began in mid-April, the Minnesota Twins were reeling for most of that time.
His last two turns have been masterpieces, and maybe the injury-affected Twins have found a groove again.
Logan Morrison forced in the go-ahead run with a four-pitch walk in the eighth inning after striking out in his first three at-bats, propelling Berrios and the Twins to a 4-2 victory over the Detroit Tigers on Monday night.
"We're just going to keep sticking together and play hard and see where it takes us," Berrios said through the team interpreter after striking out nine and giving up just three hits and two walks over eight innings.
Nicholas Castellanos gave the Tigers a 2-0 lead with a home run to straightaway center field in the first inning and a two-out RBI single in the third, both hits on first pitches. Berrios (5-4) then retired 15 straight batters after that to sail past the seven-inning mark he's reached in half of his 10 starts. He gave up one run on just two hits and one walk in seven innings with 10 strikeouts to beat St. Louis last week, rediscovering his sharp-breaking curveball.
"At the beginning of the game it kind of felt like they knew what I was going to throw," Berrios said, "so we went back to the dugout and kind of came back with a different game plan."
Fernando Rodney closed with a perfect ninth for his 10th save in 13 tries. Rodney, whose first eight seasons of his major league career were with the Tigers, has converted eight straight saves in 10 consecutive scoreless innings.
The more relevant reunion was the return of Tigers manager Ron Gardenhire to Minnesota, where he managed the Twins for 13 seasons. This was the first game between the division rivals since Gardenhire was hired by Detroit, but the Tigers dropped their fourth straight game. They have only 13 runs in their last six games.
Gardenhire never managed Berrios, but the right-hander was a rising star in the farm system during the end of his tenure with the Twins.
"You can see him understanding probably what hitters are trying to do a little bit more," Gardenhire said. "He's always had that fastball, and he's very athletic out there. You knew it was just a matter of time."
Max Kepler hit a two-run double in the fifth off Tigers starter Blaine Hardy to tie the game and nearly gave the Twins the lead that inning, but he was ruled out at home trying to score on Eduardo Escobar's two-out single to left field. The original safe call was reversed by replay review that declared catcher James McCann's tag clipped Kepler's back just before his leg slid across the plate. Kepler thought his drive off the tall wall in right-center was going to reach the seats, and his admiration might have cost him a triple.
Morrison made sure that potential mistake didn't matter by keenly watching Tigers reliever Daniel Stumpf (1-3) throw four straight balls with the bases loaded after Gardenhire elected to intentionally walk Mitch Garver.
READY ROSARIO
Eddie Rosario's double off an uppercut swing on a high pitch sparked the rally in the eighth after a one-out walk by Escobar. Robbie Grossman tacked on a sacrifice fly when Rosario startled the Tigers with a delayed tag on a pop out to shallow right field, scoring without a play at the plate.
"That's our Puerto Rican style right there for you," Berrios said.
Rosario ended the game with a leaping catch and crash against the left-field wall.
"I've learned not to blink," manager Paul Molitor said. "He gets my attention."
HEARTY HARDY
Hardy finished five innings without a walk in his second major league start, allowing seven hits and the two runs with four strikeouts. He went eight days between turns with one six-pitch relief appearance in between.
"The fact that I was able to get through five this time is a bonus," Hardy said. "Obviously I want to go a little bit farther."
TRAINER'S ROOM
Tigers: 1B Miguel Cabrera (strained right hamstring) is still being brought along slowly, following his first on-field batting practice action on Saturday since the injury occurred 2½ weeks ago. "But he's actually feeling really, really good," Gardenhire said. ... 3B Jeimer Candelario (left wrist tendinitis) could start a rehab assignment this week. "The smart thing might be to get him some real action here and not just BP," Gardenhire said.
Twins: 1B Joe Mauer was back at the ballpark after staying home over the weekend with a sore neck and concussion-like symptoms. "He's doing a little better," Molitor said. ... 3B Miguel Sano (strained left hamstring) was slated to play his first full game on Tuesday on his rehab assignment with Triple-A Rochester.
UP NEXT
Tigers: LHP Matthew Boyd (2-3, 3.19 ERA) pitches on Tuesday night. He has completed at least six innings in seven of his eight turns this season, with five starts allowing two runs or fewer.
Twins: RHP Lance Lynn (1-4, 7.47 ERA) takes the mound in the middle game of the series. He gave up three runs on four hits and four walks in three innings last week in a loss to the Cardinals.