Yankees end 10-series winless streak and beat Tigers 6-2 as Torres homers
DETROIT - DETROIT (AP) — The New York Yankees ended a 10-series winless streak as Gleyber Torres homered for the third straight game in a 6-2 victory over the Detroit Tigers on Wednesday night.
DJ LaMahieu and Giancarlo Stanton also homered for the Yankees, who have won the first three games of the four-game set. They hadn't won a series since sweeping three games from Kansas City from July 21-23 and hadn't taken a road series since winning two of three at Oakland from June 27-29.
Stanton reached 20 homers for the 12th time in 14 seasons, the most times at 20 in the major leagues since 2010. He has 398 homers in his big league career.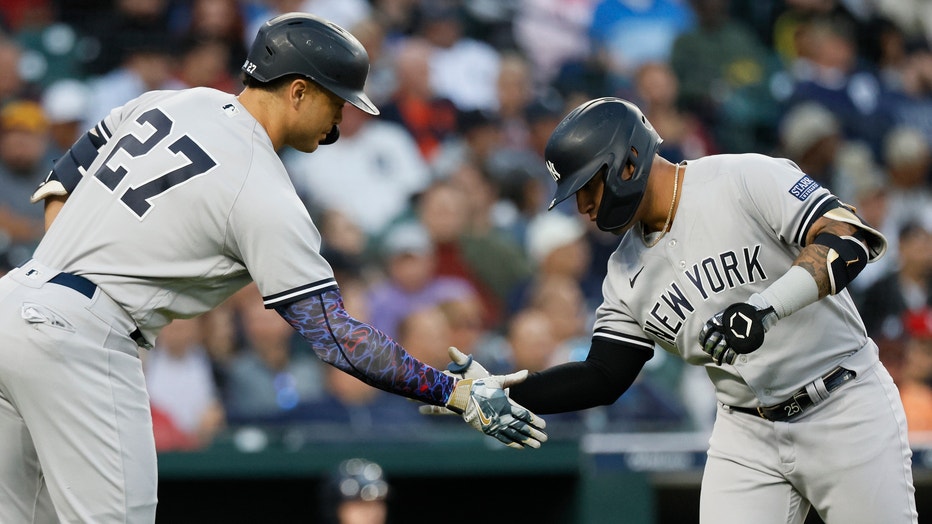 DETROIT, MI - AUGUST 30: Gleyber Torres #25 of the New York Yankees celebrates with Giancarlo Stanton #27 after hitting a solo home run against the Detroit Tigers during the fourth inning at Comerica Park on August 30, 2023 in Detroit, Michigan. (Pho
Gerrit Cole (12-4) allowed two runs and four hits in six innings, winning back-to-back starts for the first time since May 28 and June 3. His 2.95 ERA dropped into second in the AL behind Minnesota's Sonny Gray at 2.92.
Ian Hamilton finished a four-hitter for his second save.
Jake Rogers and Spencer Torkelson homered for the Tigers, who have lost five straight and seven of nine on a 10-game homestand.
Detroit's attempt to use Brendan White (2-3) as an opener against New York's righty-heavy lineup was unsuccessful. He struck out this first two batters he faced but the next five reached base. Stanton had an RBI single and lscored when White hit Everson Periera with a pitch with the bases loaded.
Joey Wentz allowed a second-inning homer to LeMahieu and a third-inning RBI single by Everson Pereira.
Torres and Stanton homered on consecutive pitches in the fourth, the third time in four games the Yankees hit back-to-back homers. Torres is batting .340 with seven home runs in August, and the Yankees have hit 20 in their last eight games.
Tigers center fielder Parker Meadows robbed Oswald Pereza of an extra-base hit with a spectacular running catch in the fifth.
ROSTER MOVE
RHP Spencer Howard was released by the Yankees. He was acquired as part of a minor trade at the deadline.
POWER AND SPEED
New York had at least three homers and three stolen bases in the same game for the first time this season. The Yankees, taking advantage of inattentive pitchers, pulled off two of their four steals without throws.
UP NEXT
RHP Clarke Schmidt (8-8, 4.51) starts Thursday for New York.