Michigan weather: Significant threat for thunderstorms and hail, isolated tornadoes possible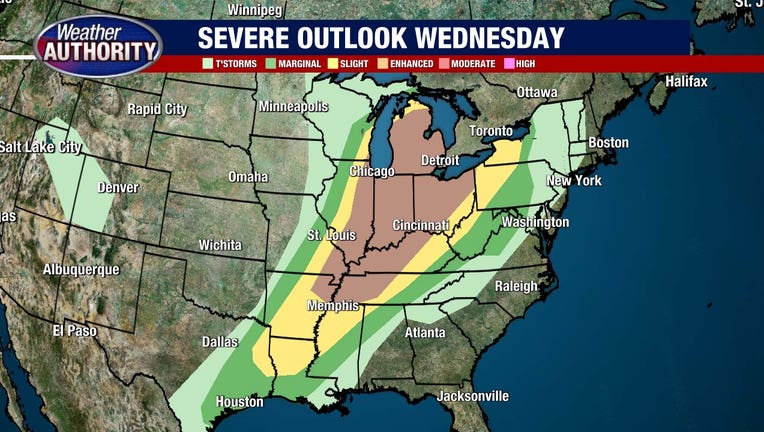 article
SOUTHFIELD, Mich. (FOX 2) - The severe weather season is kicking off with a bang in early April and heading into Wednesday we find ourselves in the bullseye for significant threats. Let me explain.
Beginning early Wednesday morning strong to severe thunderstorms will push into Michigan. All indications are that the strongest storms will impact parts of northern Michigan mainly. These storms would likely bring gusty winds of over 55 mph, lots of thunder and lightning and heavy downpours. 
Read: GLWA warns residents in flood-prone areas to remove valuables from basements
However, a chance still exists that some of these storms may sneak into parts of Southeastern Michigan, too. This would then have implications for the later in the afternoon so a lot depends on the path the storms take.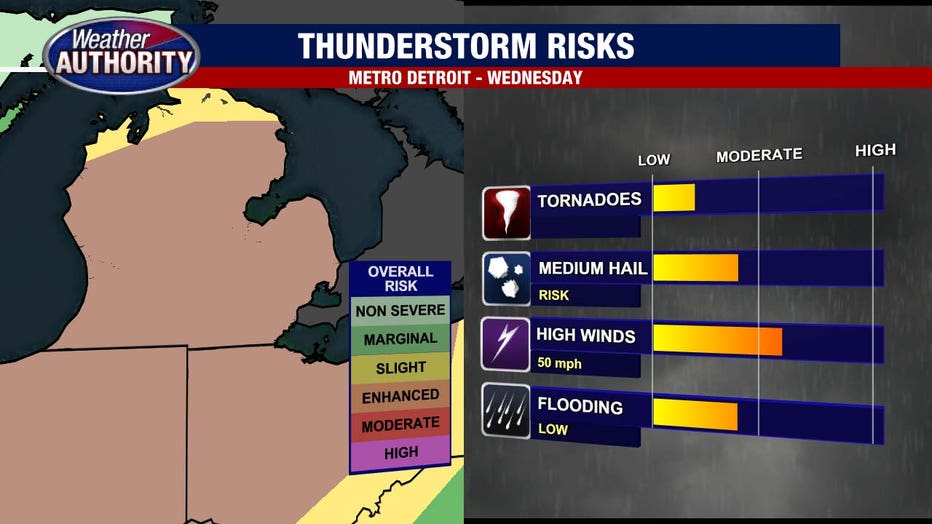 In order for severe thunderstorms – namely tornadoes – to form, it requires a collision of warm and cold air. The atmosphere itself becomes unstable as energy builds up. Think of it as a balloon getting bigger and bigger until it pops: the bigger the balloon gets the bigger the pop. 
If we get storms early enough in the day on Wednesday, it may limit the amount of potential energy for later storms, thus reducing the pop. If we do not see morning storms, and then get some sunshine – therefore increased instability – then we will likely get severe weather throughout the afternoon and evening.
Right now the key window looks to be between 11:00 a.m. And 4:00 p.m., but storms could start earlier and even linger later into the day. 
Wednesday's tornado risk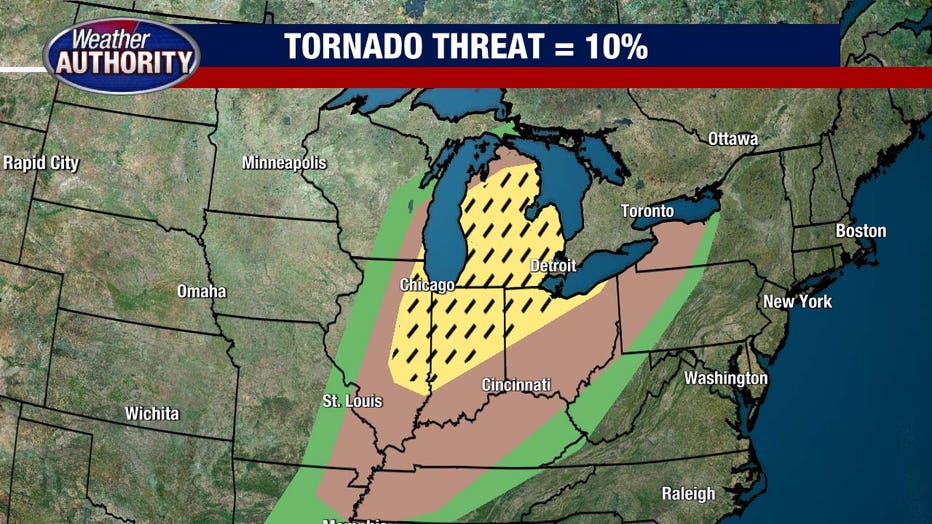 A warm front by definition has more spin in the atmosphere than a cold front, which means that tornadoes are possible. The main threats throughout the day include large hail up to 1 inch in diameter, isolated tornadoes, and winds gusting to over 55 mph. In addition to this, lots of thunder and lightning and heavy downpours are possible too.
The chance for this type of severe weather will linger until around 7:00 or 8:00 p.m. Wednesday before it tapers off as the atmosphere stables out Wednesday night into Thursday.
How to track Wednesday's storms
FOX 2 is keeping a close eye on Wednesday's incoming weather throughout the night Tuesday and also Wednesday morning. We'll be live all morning long and at 1 p.m., Derek Kevra will stream live updates as we track this storm and it's threat.
You can also download the FOX 2 Weather app for live radar updates wherever you are. You'll get alerts and updates throughout the day to keep you and your family safe.