$2M bond for man charged with stabbing 14-year-old for refusing sex, more charges possible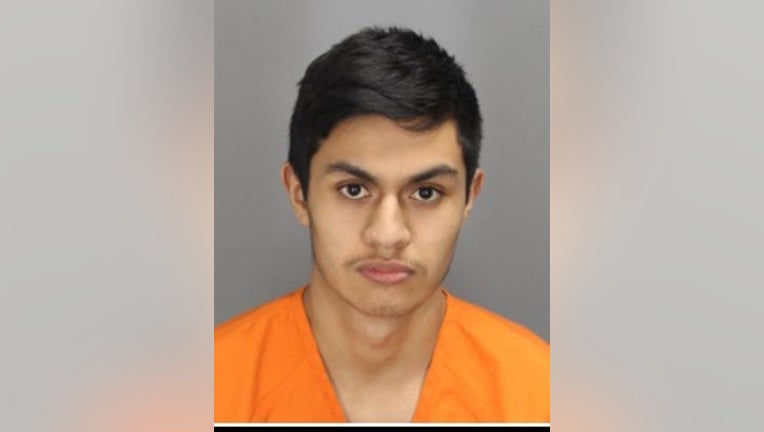 article
OAKLAND COUNTY, Mich. (FOX 2) - An Oakland County judge has ordered an 18-year-old man from Illinois charged with stabbing a 14-year-old for refusing to have sex with him to be held on a $2 million bond. But the judge would have ordered him held without a bond at all - if he could have.
Julian Pinedo is being held in the Oakland County Jail after authorities said he stabbed the 14-year-old for refusing to have sex with him. According to the Oakland County Sheriff, Pinedo came to Clarkston from Illinois after meeting the young girl online.
The pair discussed meeting up, and the man went to her home in home around midnight Tuesday into Wednesday.
"They had been communicating via an app since approximately mid-December, and at some point he got it in his head that he was going to come up and see her and have sex with her, and at some point in that process, he realized that wasn't going to happen," Sheriff Michael Bouchard said on Wednesday, the day he was arrested.
On Friday, Pineda was arraigned on the charges where it was revealed he has been in the area for about a week prior to the alleged stabbing.
Read Next: Man who sexually assaulted children, had woman chained to pole gets life in prison
The prosecutor wanted him held on a high bond because he's not from the area. Additionally, it was revealed that he was a missing person after taking his mom's car from her home a few days ago. 
Pineda was charged with assaulting the girl but is also facing other felony charges for child abusive sexual activity and using a computer to commit a crime.
He has a prior conviction in Illinois as a juvenile and was on probation for two years after he threatened a school he attended.
Judge Joseph Fabrizio said that he wanted to deny a bond for Pineda but pre-trial services said the statute didn't make that possible. 
"If any case cried for denial of bond, it seems that this would be one of them," Fabrizio said, noting that Pineda has no ties to the community. 
Instead, his bond was set at $2 million and, if posted, he cannot leave the state, must appear in court, update the court on his address, and is not allowed to have drugs or alcohol. He's also not to have contact with the victim.
He's due back in court in February.
"Meeting in person with people you have met online can be extremely dangerous," Bouchard said Wednesday. "You have no idea of who that person really is or their motivation. Anytime you meet someone via the internet, it is always a very good idea to do so in a public setting and preferably have someone else with you. Do not share personal information like where you live or other items that will allow a person to locate or track you. In this situation, this was a juvenile and for so many reasons meeting someone in person is a dangerous choice, and we always discourage it."