Arguments rest in Andrew Fiacco murder trial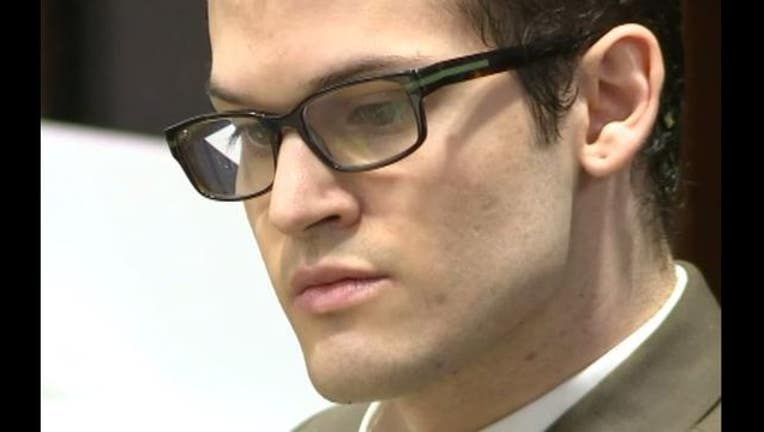 article
MACOMB COUNTY, Mich. (FOX 2) - Prosecution and defense arguments have rested in the murder trial of 21-year-old Andrew Fiacco and the jury wil return to court at 11 a.m. Wednesday.
Fiacco is charged with first-degree premeditated murder, dismemberment of a body, felony firearm and lying to police in the murder of 19-year-old Stephen McAfee in March 2016.
Over the past several weeks, the jury has heard from police, detectives, McAfee's parents, Fiacco's mother, Fiacco's then-girlfriend, and several other witnesses. On Tuesday afternoon, both prosecution and defense delivered closing arguments that lasted around an hour and a half each. 
Macomb County Circuit Court Judge Jennifer Faunce delivered jury instructions and recessed the court for the evening. Due to the expected icy weather Tuesday night and Wednesday morning, jurors' return was delayed to 11 a.m.
On or around March 10, 2016, Fiacco, who was 19 years old at the time, and McAfee were in a vacant lot at 34 Mile and Van Dyke in Bruce Township when a fight broke out. Fiacco shot McAfee several times, killing him, and left the body in the lot. His then-girlfriend Eevette MacDonald, who was 17 at the time, testified that Fiacco forced her at gunpoint to return to the crime scene with him about 30 days later. She said he forced her to help him dismember the body with an axe and eventually bury it in multiple locations, including behind his home on Kunstman Road near 28 Mile in Ray Township.
As friends and family searched for McAfee, MacDonald eventually told a friend about the murder, who went to police. She and Fiacco were arrested April 2017, and Fiacco led police to where the body parts were buried.
Fiacco claims he acted in lawful self-defense and arguing against the premediated murder charge, but has accepted responsibility for the other three charges: dismemberment, felony firearm and lying to police. Throughout the trial prosecution argued the murder was planned, while defense argued that Fiacco was attacked and did not go to the vacant lot that night with a plan to murder McAfee.
MacDonald pleaded guilty to disinterment, a 10-year felony, and accessory after the fact, a 5-year felony. As part of a plea bargain, prosecutors dropped a lying to police charge, a 4-year felony. MacDonald is eligible for the Holmes Youthful Trainee Act, or HYTA, which allows her a clean record if she follows the court's rules. Prosecutors said they wouldn't object to it -- and wouldn't object to probation. She will be setentenced at a later date.
The trial was streamed on FOX 2 News Now, click here for an article with more details on the case as well as videos of the trial from the last several weeks.
Watch prosecution's closing arguments below:
Watch defense's closing arguments, a short rebuttle from prosecution, and the judge read jury instructions below: