Bell's mixes up Oberon's aromatics, flavor cues for winter version of popular beer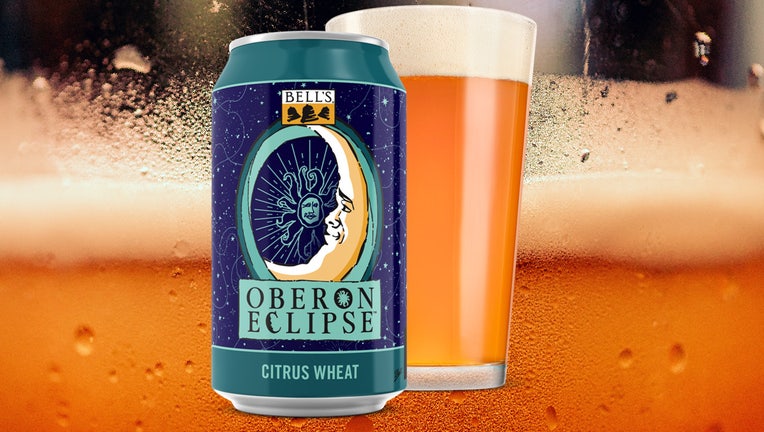 article
COMSTOCK, Mich. (FOX 2) - Fans of Bell's Oberon now have a way to enjoy it off-season, with a twist.
Oberon Eclipse is a colder weather take on the citrusy classic. Like the original, Oberon is also a citrus wheat ale. It includes notes of orange and coriander, and clocks in at a slightly higher ABV than the original – 6.3% compared to 5.8%.
"If you like Oberon you're going to like this beer, or you should like this beer," said Bell's marketing director Scott Powell.
Powell said Oberon fans have been asking for the beer to be available year-round. While Bell's has no plans to make the spring and summer favorite available beyond that timeframe, it got the brewery thinking of ways to give Oberon fans something to drink when the weather gets colder.
That's when Bell's brewers got to work.
"Our amazing brewing team took everything folks love about Oberon – the bright flavors, the color, how smooth it is to drink," Powell said. "The wheat, the wheat malt in it, those citrusy aromatics, and then just added a bit of a seasonal twist to it."
Oberon Eclipse uses a darker malt than the original, along with orange and spices, something Oberon doesn't have. The result is a warming beer that is perfect for fall and winter.
"That was the intent all along - take the things folks love about the original Oberon, but you know add some fall and winter nuance to it," Powell said.
The new brew has "a lot of the characteristics of the beer itself with just some different aromatics, flavor cues, and a little bit more warming," Powell said.
So, will this version of the beer people wait months for overshadow the joy of Oberon release day, which is basically a holiday in Michigan?
Powell says no - Oberon Eclipse is different enough.
"We're not trying to replicate Oberon release day," he said. "The hope was never to try to replicate that but come out with something just different enough to tie people over and give them something really tasty until the spring."
Bell's plans to add Oberon Eclipse to its seasonal lineup.
Look for it in packs of only the beer and in Bell's latest seasonal variety pack, which also includes Two Hearted IPA, Big Hearted, and Best Brown.
As for Oberon, it comes out in March and is available through the summer. Also, Bell's has released different versions of Oberon that are usually on tap at the Eccentric Café in Kalamazoo.
Last summer, Bell's packaged three of those fruity spins: cherry, circus, and mango jalapeno. Powell said the brewery is exploring if it should release any other varieties in cans this summer.
Watch FOX 2 News Live