Beware turkey season: bird flies through man's windshield on Michigan highway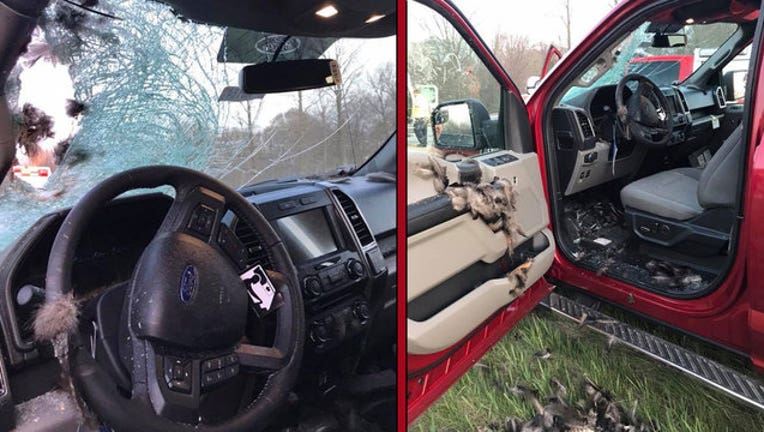 article
(WJBK) - Michigan drivers know to watch for deer, ice and potholes, so turkeys don't typically come to mind as potential dangers on the road. But that's exactly what the Dutton Fire Department says caused a messy backup along a highway on the west side of the state Tuesday. 
The department posted photos and a warning after a turkey went through the windshield of a new F-150. It happened along M-6 at Hanna Lake, which is about 15 miles southeast of Grand Rapids, the second largest city in Michigan. 
The turkey went through the windshield right in front of the driver's seat, and you can see broken glass and feathers strewn about everywhere. The driver was injured and had to be hospitalized, but it sounds like he'll be fine. 
A comment on the Facebook post from Kim Raih says this happened to her dad. 
"He mostly has facial and chest bruising and injuries, cuts and bruises and glass poked in his skin all over. The turkey hit him square on at 70 mph and directly in the face and chest! He is going to go home soon! We are so thankful, blessed and appreciate all the thoughts and prayers!," Kim wrote. 
"The Turkey is no joke; they will absolutely destroy a vehicle, especially if you're unfortunate enough to encounter more than one," the department warns. It's spring turkey season in Michigan right now. Hunting dates are April 23-May 31, 2018. 
Facebook user Maxine Steadman added in a comment that her daughter hit a turkey last year and it nearly totaled the car. 
The department explained that the turkeys don't often sit in the road as you drive over them. They'll attempt to take flight -- and you'll find them right about face level.
"The best practice is to simply remain aware and defensive at all times no matter where you are."
Sound advice for any driver, anywhere.