Charges dismissed against white couple that drew gun on Black mother, teen in parking lot dispute
FOX 2 (WJBK) - Charges were dismissed against the white couple who drew a gun on a Black mother and her teen daughter in a parking lot of an Orion Township restaurant.
Eric and Jillian Wuestenberg were charged after the latter was caught on camera pointing the weapon during the altercation with the woman and her then-15-year-old daughter. The incident happened in July of 2020 in the parking lot of a Chipotle.
On Monday a judge dismissed the case without prejudice. Eric Wuestenberg, now 44, and Jillian Wuestenberg, now 34, had been charged with felonious assault, a 4-year felony.
The heated exchange appeared to stem from when the woman bumped into the mom's daughter as they were entering the restaurant. After the mom asked the woman to apologize, the disagreement brewed into a shouting match before a firearm was drawn.
According to Bouchard, the argument is believed to have started after two people bumped into each other while one was walking out of a Chipotle.
"Apparently, what had happened - (there) was one common theme between both (stories) - the 3 headed inside Chipotle and one woman headed out with her food, there was a bump as they entered and exit," he said.
Bouchard said someone felt they needed an apology and "it escalated from there." He said it was unclear who the aggressors were.
The Wuestenbergs said they felt threatened as the altercation escalated.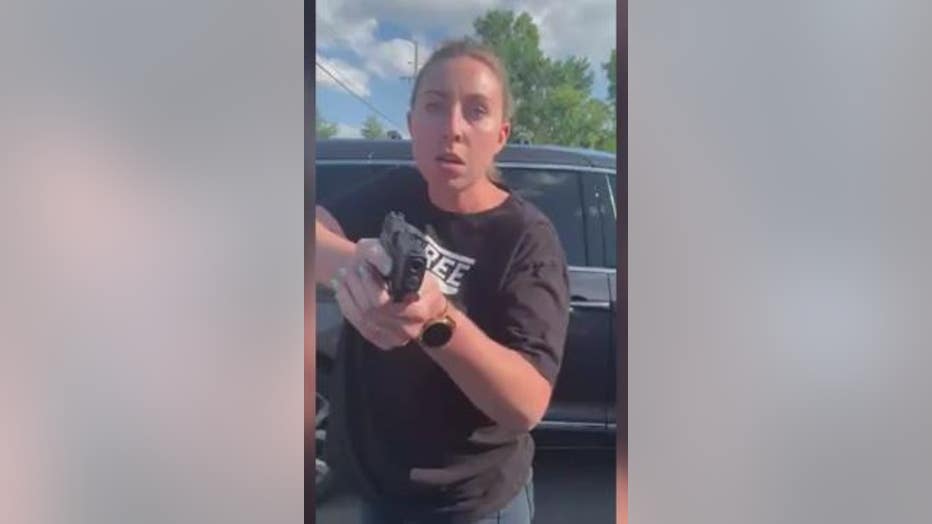 "They were blocking the entrance to the car, I had a railing behind me," she said. "I was trapped, I couldn't go anywhere. I was being yelled at, berated, called a racist and ignorant and I was trapped."
Eric says got out helping his wife get in the car. They said amid the back and forth, they tried to back up and leave - but the car's automatic braking system suddenly stopped - at least one of the women was banging on the car. Jillian says she was in fear for their lives.
"At that point I realized we're not going home tonight, we're not going to see another day, and the only thing I can do is protect myself and I draw my firearm," she said.
The Wuestenbergs said they already paid a steep price following the incident.
Eric Wuestenberg, a disabled veteran, lost his job at Oakland University as coordinator for Veteran Support Services, while Jillian said she had lost her job at Hallmark.
They also said they had received numerous death threats and threatening text messages.