Charity hosts Oktoberfest event with helicopter ball drop to support paralyzed individuals in need
WALLED LAKE, Mich. (FOX 2) - A non-profit organization is hosting a festivity-filled Oktoberfest celebration this weekend for a good cause – featuring a helicopter ball drop with prizes, live music, pumpkin bowling, an ice-cream truck, a donut eating contest and more.
The event will be held by The Drew Crew on Saturday, Oct. 14 at Casey's of Walled Lake, starting at 4 p.m. 
The Drew Crew specializes in assisting individuals and families who have suffered spinal cord injury or other forms of paralysis, according to the non-profit. Drew Clayborn's family started the organization to raise money for his medical expenses when he broke his neck practicing a backflip for his high school musical in 2010. 
The injury left him quadraplegic, but Clayborn has dedicated his life to helping others with similar challenges – as he is currently director of The Drew Crew.
"I have been blessed so much with the non-profit – with the Drew Crew and everything we do – and I'm just so happy that I get to pay it forward to somebody else," Clayborn said.
The primary attraction, the helicopter ball drop, will give participants the opportunity to win monetary prizes. The three balls that land closest to the hole win $3,000, $1,500, and $750. Tickets are $20 each; 5% of food and drink will go to The Drew Crew while another 5% of food and drinks will go to the Walled Lake Civic Fund, according to the non-profit. 
"We're going to drop a thousand golf balls from a helicopter, and it's going to raise money for myself along with other individuals with spinal cord injury," Clayborn said.
This year, the Drew Crew has chosen to help a paralyzed mother of two, Melissa Teligades, purchase adaptive equipment to use her computer. She is pursuing a college education, and is in need of technological tools to support her endeavors.
"You can live a life with access to technology the way it is now, and it gives you the independence you need to really move forward and fight through your paralysis and be able to live and be a part of society - which is amazing," Clayborn added.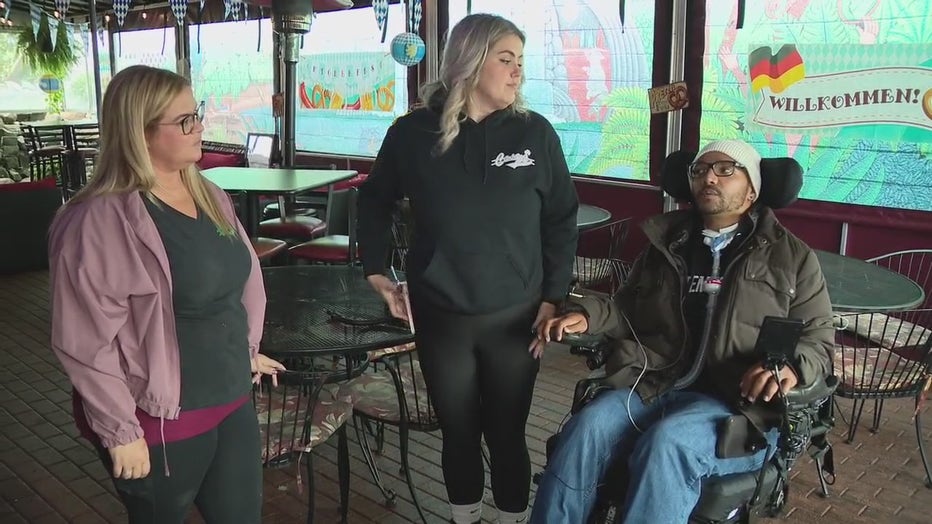 The daughters of the late owner of Casey's of Walled Lake, Casey Ambrose, said they are continuing their dad's legacy of service by giving back to the community.
"This year, one of our goals was focusing on community and outreach and getting our name out there and being able to help the community as well, and so Drew's been a big part of that," said Nichole Guizar. 
"Throughout my dad's life, we've always supported the Drew Crew, and we're going to keep supporting him," Ali Ambrose added.
To win the ball drop, participants do not have to be present but have to purchase a ticket here.
The event will be live streamed on The Drew Crew Facebook page.