Construction begins on state-of-the art Detroit transit center
DETROIT (FOX 2) - A building once used to house cattle will soon be the site of a modern and sleek new transit center in Detroit. 
The State Fair Transit Center will service riders on both SMART buses and on the Department of Transportation at its location near Eight Mile and Woodward.
The root of the transit center's construction goes back to Amazon's plans for a distribution building in Detroit, which was about three years ago. The original agreement was in exchange for developing the old state fair grounds, Amazon would spend $7 million to help build a new transportation facility.
RELATED: Amazon to build $400 million distribution center on former state fairgrounds in Detroit
Since then, crews have cleared out the interior of the massive building in preparation for a new state-of-the-art facility.
"You may just see bricks and mortar, but I see a vision for the future of public transportation," said DDOT Director Mikel Oglesby. "When you go inside, you're going to possibly get a cup of coffee, go and take a look at a big screen to find out when your bus is coming."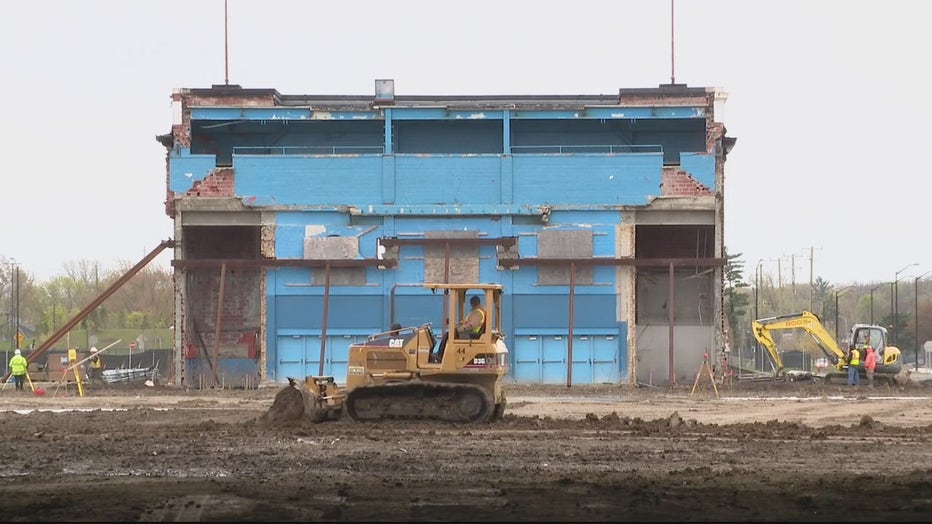 Demoltion of the interior of the transit center has been ongoing for months. 
What started as a hub has turned into a much larger endeavor. Public transit options remain limited in Metro Detroit with only DDOT and SMART buses available. 
Even with Amazon's funding, the city will still need to shell out more than $20 million to complete the project. 
The site is expected to be completed in 2024.