Couple charged with abuse and murder of toddler in Farmington Hills motel in court for preliminary trial
ROCHESTER HILLS, Mich. (FOX 2) - The homeless couple charged with abusing and murdering their 15-month-old son last year were in court for a preliminary exam Friday morning.
Isaias Porras and his wife, Amanda, face a slew of first and second-degree murder and child abuse charges after police found the couple's dead son in a Farmington Hills motel last October. 
Both defendants will appear in the 47th District Court in Farmington Hills. The preliminary hearing started at 9 a.m. however, testimony from the first two witnesses was not to be released, according to the judge. 
Isaias faces first-degree murder and child abuse charges. Amanda was charged with second-degree murder and child abuse, as well as an accessory after the crime charge.
Police made the tragic discovery during a welfare check on the couple's son on Oct. 4, 2021. The boy, named Isaias Daniel Porras, was found dead, wrapped in blankets. In the days after their arrest, the Oakland County prosecutor said both confessed to their role of abuse, which lead to the toddler's death. Prior to their confession, the prosecutor said Amanda had tried to mislead police.
Farmington Hills Police Officer Zachary Kosal was the first witness whose testimony was allowed to be viewed. He testified that he was sent to the Motel 6 on Grand River around 5:30 p.m. on Oct. 3 after the grandmother and aunt of the young child called for a welfare check.
When they first knocked on door 257, nobody answered. Kosal said they knocked multiple times and didn't hear anything inside so they went to get a room key. When they returned with a room key, the officers again announced themselves and said they were about to enter the room with a key. Only then did the door open.
Kosal said Amanda slightly cracked open the door and told him that the boy was with his grandma. However, he responded that he had just spoken with the grandmother who said the boy was not with her. He said they spoke like this for a couple of minutes before the door was finally opened.
Once inside, Kosal said that everything appeared to be packed up, as if the people inside were about to leave. He said there were multiple times for a child in the room, including a stroller, but no child inside.
He then said he searched the room thoroughly including under the beds. Underneath two blankets and a pillow was the child, who Kosal said was 'clearly passed away'. 
Under cross-examination from the defense, Kosal was asked if the officers had a search warrant to enter the room. He said he was not in charge of obtaining a search warrant but was instructed to enter the room due to heavy rain outside.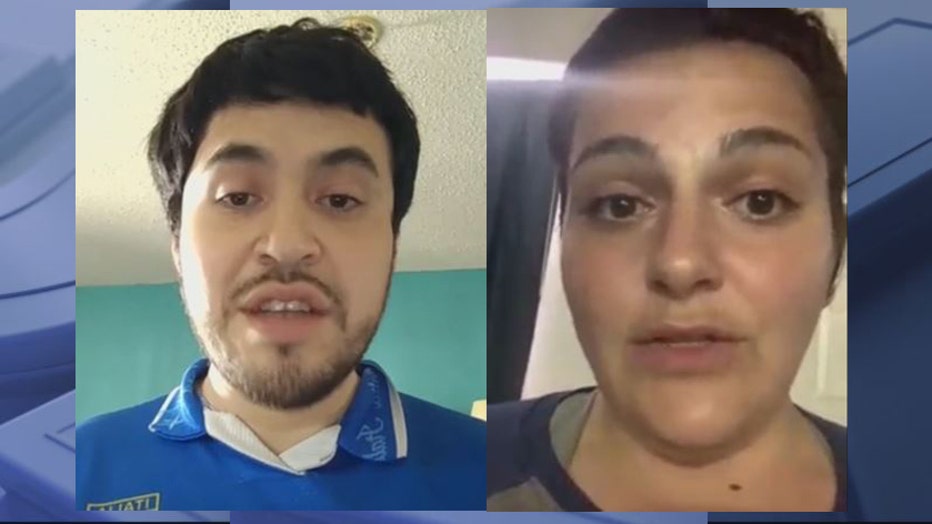 Isaias Porras and his wife Amanda are charged with the death of their son, just over a year old.
"Indicating they had given the child away when in fact the baby was covered with blankets in the hotel room," said prosecutor Amy MacGregor. "He was covered from head to toe in bruises and such blunt force trauma it results in subdural hematoma to his brain ultimately resulting in his death."
Prosecutor: Dead 15-month-old's body was covered in bruises as parents face charges
MacGregor said Amanda never tried to stop the attacks on her own son.
"While observing the child beaten and convulsing, she didn't call 911, she did not seek medical help," the prosecutor said. "She was with the "child and didn't do anything to assist."
Police say the couple were living at the motel six for an extended period of time. Their attorney says they were trying to start a self-help business.