Dan 'Hutch' Hutchinson's wife details business relationship with lawyer accused of orchestrating murder
OAK PARK, Mich. (FOX 2) - Three of the men accused of orchestrating and carrying out the murder of Metro Detroit jeweler Dan 'Hutch' Hutchinson appeared in court on Friday where it was revealed Hutch and his family would give large sums of cash to the attorney allegedly behind the murder-for-hire plot.
Marco Bisbikis is the attorney accused of orchestrating his murder, Hutchinson's wife said in court Friday after he allegedly wrote himself into Dan's will. He allegedly worked with three other men – Angelo Raptoplous, Roy Larry, and Darnall Larry – to have the well-known jeweler murdered last June. 
Dan and his wife Marisa were sitting in his SUV in Oak Park when Roy Larry allegedly opened fire on the vehicle, killing Dan but missing Marisa.
Read: New details emerge in Hutch's Jewelry murder-for-hire plot
Marisa was granted immunity before testifying about the business she owned with her husband, meaning that nothing she said during her testimony could be used against her. 
For hours, Marisa was questioned about business practices, including how Hutch's Jewelry kept track of money and how Bisbikis was paid to handle the couple's money.
According to her testimony, Bisbikis was heavily involved in the business, and her husband often consulted him. Marisa said between 2019 and 2020, revenue at Hutch's tripled, with the business bringing in about $21 million in 2020. This jump in money lasted until 2021.
During this time, Marisa said Hutch didn't report all cash transactions because cash sales over $10,000 require businesses to file tax forms. Some customers didn't want to provide the information necessary for these forms, such as Social Security numbers, so the business honored the customers' wishes and did not report.
Marisa said Bisbikis told the couple it wasn't good to keep large amounts of cash at the business. They began bringing bundles of cash to his firm, All Law, where it was put into a trust.
"Marco explained to us that over time this could go through a trust account, a lawyer trust account," she testified. "Because of lawyer-client privilege, the origin of that money could not be questioned."
Marisa explained that this is something people who win settlements sometimes do when they want to remain anonymous.
She said Bisbikis was responsible for wiring money for real estate transactions on behalf of the couple, including a pawn shop that was purchased for $600,000 a few months before Dan's murder.
Much of the business' record keeping was loose, according to Marisa, including how they would pay Bisbikis. 
She said Dan paid Bisbikis in a way that was "incredibly informal," bringing him stacks of cash, "$10,000 here, $10,000 there," with no receipt. This is something Marisa referred to as a "gentlemen's agreement."
"They would jot down a number on a piece of paper or a piece of junk mail that would be sitting on Marco's desk," she said, adding that both men would look at the paper and nod in agreement.
These informal transactions were done on purpose.
"Because of the origin of the cash it didn't make sense to have a tight ledger of all these transactions," Marisa said.
Marisa also discussed how Dan would allow customers to bring jewelry back if they needed money, and he would give them a sort of loan for a short period of time. Bisibikis allegedly advised the couple that this was OK.
"It felt like a very gray area of the business," she said. "We were advised by Mr. Bisbikis that as long as we did not collect interest on this sort of transaction that, it was OK to conduct that."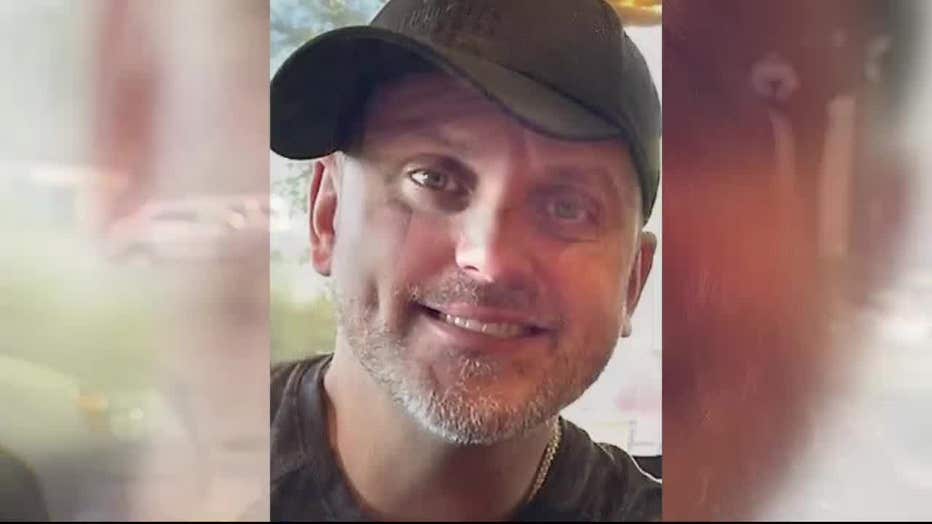 In addition to handling real estate transactions and advising some business decisions, Marisa said Bisbikis convinced the Hutchinsons to invest in a movie that he was acting in.
Bisbikis was to invest $2.1 million of the Hutchinson's money and match that investment with his own money. He promised them a guaranteed rate of return, and they agreed. However, Marisa said he actually only invested $900,000 of the couple's money, never told them this, and never returned the money to them.
"At the time of my husband's death, Mr. Bisbikis had $2.4 million of ours," she said. 
Marisa said that after Dan's murder, she hired private investigators who determined Bisbikis was involved in the crime. When she learned this, she wanted him to write up an agreement attaching her to the movie and confirming he had that money, along with an additional $300,000 in cash that she thought was in the trust account.
"I was pushing to get something on paper. I told him it was very important to me because that's a large sum of money, and with everything that had happened, I was very uneasy about having that much money unaccounted for, and so I asked him to bring together an agreement," she said.
Marisa said she never got any of that money back.
Bisbikis did write up an agreement as requested, but Marisa said her new lawyers told her not to sign it because it was a limited partner agreement.
When the court broke for lunch Friday, Marisa was being questioned about the purchase of the pawn shop in Oak Park.