New details emerge in Hutch's Jewelry murder-for-hire plot
OAK PARK, Mich. (FOX 2) - Three of the four men involved in the murder-for-hire plot against an Oak Park jeweler appeared in court Tuesday. 
Bond for Marco Bisbikis, an attorney who is suspected of orchestrating the hit against Dan Hutchinson, was denied by a judge over fears he is a danger to the community. The two other defendants in the courtroom, Roy Larry, 44, and Angelo Raptoplous, 32, were also in court.
Darnell Larry, 57, was not in court. The prosecution said he made multiple statements corroborating the order of events that attorneys say led to the fatal shooting over the summer.
"Those statements indicated that at the very least, on the day of the homicide, Mr. Bisbikis contacted Darnell Larry and told him that the Hutchinson's were going to be at his - Mr. Bisbikis's office," said Prosecutor John Skrzynski. "They were coming for a consultation with him."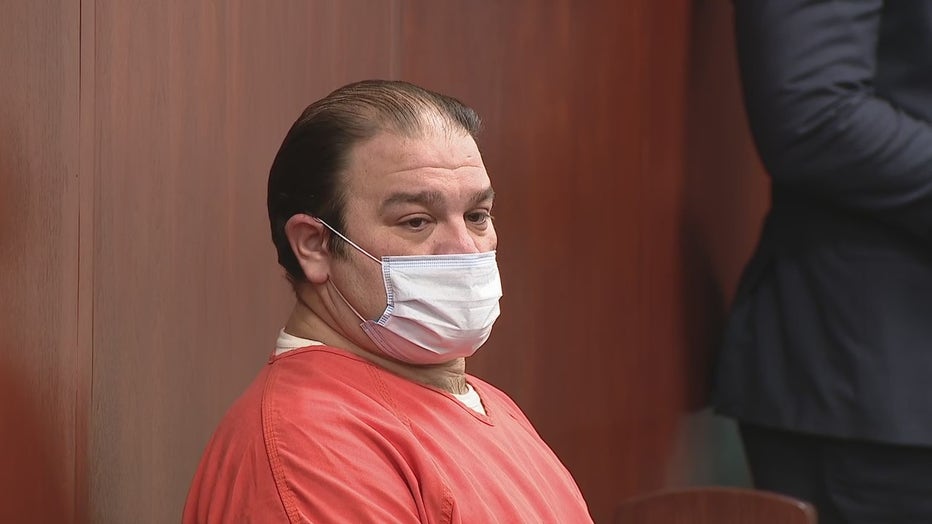 Marco Bisbikis in court for a probable cause conference.
Bisbikis, a Novi resident and practicing lawyer in Southeast Michigan, is suspected of writing himself into Hutchinson's will before planning his killing. Cell phone records indicate that Bisbikis did call Larry, the Skrzynski said.
"Mr. Larry indicated that conversation had to do with him (Bisbikis) saying the Hutchinsons were coming and he wanted them to engage in maybe an accident, to rear-end them, to pull over to the side, and then at that point, to shoot them on the side of the road." 
In arguing for a lower bond, Bisbikis's attorney said Larry's statements have contradicted one another and that the prosecution's case lied solely on his word. The prosecution admitted that was true, but that they had also found evidence the men had been in contact with one another in various forms before the shooting took place.
The new details presented in court offer insight into the case that has been handed over to Oakland County prosecutors after a months-long investigation by Oak Park police.  
The four men charged in the case were each arraigned on counts of first-degree murder for the June 1 incident. Daniel "Hutch" Hutchinson was shot multiple times in his SUV after leaving his pawn shop, which he owned on Greenfield and Miller. His wife, who was also in the vehicle, wasn't hurt. 
An Oak Park police lieutenant said the incident was targeted though couldn't determine the motive at the time. Roy Larry, the shooter, was the first to be arrested. Months after, both Raptoplous and Darnell Larry were also arrested. 
Sources previously confirmed with FOX 2's Jessica Dupnack that Bisbikis had befriended Hutchinson and became a business associate with the jeweler. He was eventually trusted enough to draft a will for Hutchinson. 
Without the jeweler's knowledge, Bisbikis also added himself to the will. 
On the day of the murder, the attorney said both Bisbikis and Raptoplous, who is believed to have been above both Roy and Darnell Larry in the operation, instructed the two about the kind of vehicle they should be looking for.
"They saw the car in the parking lot of the pawnshop, pulled over, and then they did the murder," said Skrzynski. "Darnell Larry dropped off Roy Larry and Roy Larry got into a motorized bike that they were carrying with them in their car and he drove up on Mr. Hutchinson's vehicle which was stopped in the driveway…"
The prosecution said Hutchinson was speaking with a potential client when Roy Larry pulled up and started shooting. 
"He was supposed to have killed Mrs. Hutchinson as well. That was part of the plot," Skrzynski said, adding that Bisbikis had instructed Darnell Larry to shoot both of them.
"We believe that Marissa Hutchinson, is still in danger," Skrzynski added. "We believe Darnell Larry is in danger and there is a lot of danger involved and that if Mr. Bisbikis is out of the jail setting we don't know what he would do." 
The prosecution also said that after the murder, Darnell Larry, Raptoplous, and Bisbikis all gathered at the attorney's office where they discussed cutting ties and deleting any evidence the men knew each other.
"We have corroborated this with the phones - that all three of those phones are in the same area at that time," said Skrzynski.
Larry in court, Tuesday – and in an unusual move, he spoke to the judge directly.
"I've been sitting here patiently hoping the court (would) give me an opportunity to fight for my life, like I'm doing now," he said.
Larry's attorney – Trovious Starr, hired by Bisbikis before he was charged, was removed from the case by the judge. He will likely be called to testify instead.
Another attorney, Mark Koroi removed after a Judge Appel signed an order of withdrawal. He represented Aneglo Raptoplous – who's a business associated of Bisbikis, and allegedly helped with the murder-for-hire plot.
 
More coverage: