Hutch's Jewelry murder: Wife testifies during preliminary exam for 3 suspects
OAK PARK, Mich. (FOX 2) - Three men accused of roles in the murder of well-known Metro Detroit jeweler Dan 'Hutch' Hutchinson will be in court Friday.
READ: Hutchinson's wife details business relationship with lawyer accused of orchestrating murder
Marco Bisbikis, Angelo Raptoplous, and Roy Larry all appeared for preliminary exams. 
This preliminary exam date was set after a previous date was adjourned. 
Hutchinson was sitting in his SUV with his wife outside a pawn shop he owned on Greenfield in Oak Park on June 1, 2022, when the vehicle was shot up. Hutchinson's wife wasn't hit, but he was killed.
A fourth man, Darnall Larry, waived his right to a preliminary exam and pleaded guilty to conspiracy to commit murder late last year. All four men are currently in the Oakland County Jail.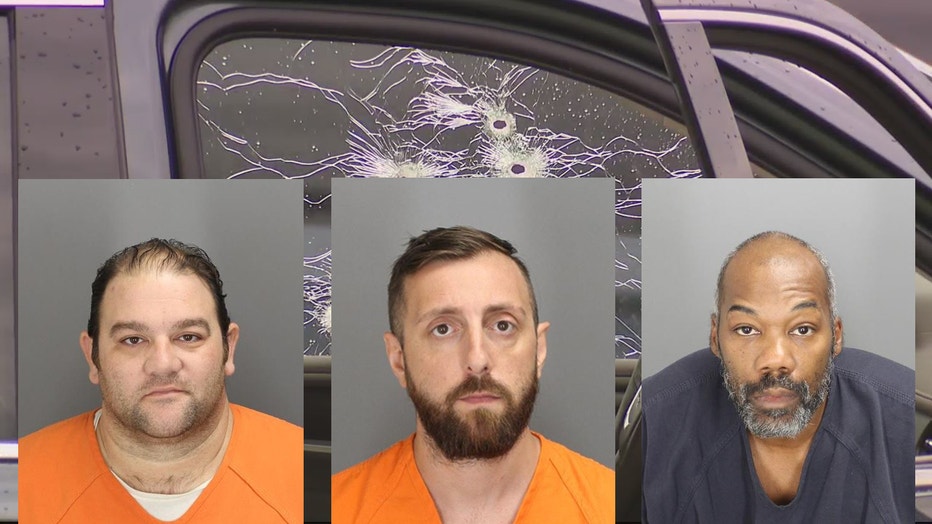 (From left to right): Marco Bisbikis, Angelo Raptoplous, and Roy Larry
Bisbikis, an attorney, is accused of orchestrating the murder after allegedly writing himself into Hutchinson's will. He and Raptoplous, who is believed to have been above both Roy and Darnell Larry in the operation, allegedly instructed the two about the kind of vehicle they should be looking for. Roy Larry is accused of pulling the trigger.
"They saw the car in the parking lot of the pawnshop, pulled over, and then they did the murder," Prosecutor John Skrzynski said when the suspects appeared in court in November. "Darnell Larry dropped off Roy Larry and Roy Larry got into a motorized bike that they were carrying with them in their car, and he drove up on Mr. Hutchinson's vehicle which was stopped in the driveway…"
Read: New details emerge in Hutch's Jewelry murder-for-hire plot
Skrzynski said Hutchinson was speaking with a potential client when Roy Larry pulled up and started shooting.
"He was supposed to have killed Mrs. Hutchinson as well. That was part of the plot," he said, adding that Bisbikis had instructed Darnell Larry to shoot both of them.
The prosecution also said that after the murder, Darnell Larry, Raptoplous, and Bisbikis all gathered at the attorney's office where they discussed cutting ties and deleting any evidence the men knew each other.