'We are not satisfied': Detroit police report 11% decrease in violent crime, property crime spike in 2022
DETROIT (FOX 2) - Violent crimes decreased in Detroit in 2022, Police Chief James White said Monday, but he said the crime numbers are "nothing to brag about."
According to preliminary data from the Detroit Police Department, there was an 11% reduction in violent crime in 2022 compared to 2021. Rapes were down 15%, robberies were down 7%, and aggravated assaults decreased 11%. White also reported a 10% decrease in fatal shootings.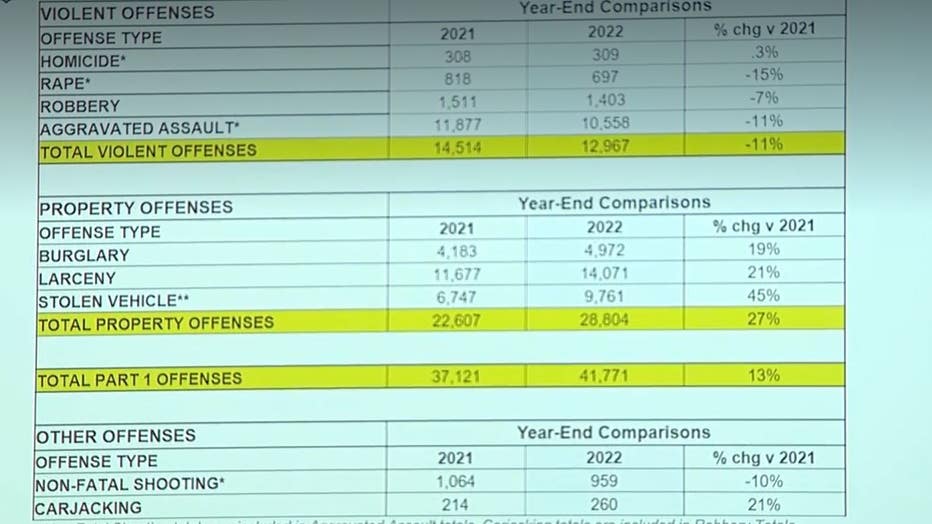 The preliminary 2022 crime data from Detroit police
However, these numbers are still way too high, White said. 
"We are not satisfied, we are not celebrating in any way," White said. "We have a huge task in front of us to continue the downward trend we see."
White noted that there was one more murder in 2022 than there was in 2021. He also discussed a problem in the city – an increase in juvenile crime. 
"It appears to be driven in large part by beefs and conflicts over social media," he said. "It's very difficult to get a handle on."
While violent crimes decreased, carjackings increased by 21%, and other property crimes, including burglaries and stolen vehicles, spiked. Property offenses increased 27% over 2021 numbers. 
White said there will be increased patrols this year, and his department will be focused on getting abandoned vehicles off streets, identifying dangerous buildings, and finding unlicensed businesses. 
"We know that you can't arrest yourself out of crime," White said, acknowledging some factors that can contribute to crime, including poverty, lack of educational opportunities, and mental health. "What we're trying to do is everything we possibly can to be proactive."
White said the data gives the police department parameters about what works, so they can continue to work toward fewer crimes. 
"We are proud of those reductions, but we are certainly not bragging," he said.