Detroit family honors anniversary of murdered son, death of FOX 2 reporter Ron Savage
DETROIT (FOX 2) - It has been six years since a teen was gunned down in Detroit. His family gathered Friday night to honor the life of Reginald Robinson - as well as a late member of the FOX 2 family.
It was Feb. 24th, 2017 and his mother Latrice Foster recalled when she got the heartbreaking news.
"The detective said, 'You have a picture of your son?'  I gave her my phone -(she said) 'I'm sorry,'" Latrice said. "(I said) 'What do you mean you're sorry?' 'Reginald's gone.' I said, 'No, all he's got to do is hear my voice.'"
Reginald Ramone Robinson was just 17 years old — shot to death as he left a liquor store at Plymouth and Meyers on Detroit's west side.
He had laughed when a man made a derogatory comment about a woman in the store. That woman left, came back, and fatally shot Reginald as he walked down the street.
She, along with her get-away driver, were arrested and pleaded guilty to second-degree murder.
"Losing a kid is like losing yourself and if you never lost a kid, you wouldn't dare understand that pain," Latrice said.
That pain had monumental ripple effects.
"This is his grandmother and she died of a broken heart, it was the only grandson ever had, only grandkid she ever had," said a relative.
The night Reginald was killed — FOX 2 reporter Ron Savage was on the scene covering the story.
Related: Michigan mom confronts son's killers in court: 'wish they had death penalty'
"We're hoping, everyone's hoping for video to shed some light on a license plate, or perhaps help identify the women," Savage reported that night,
Ron met Reginald's mom shortly after she received the horrific news.
"He said, 'I want to sympathize with you and I'm not going to cut these cameras back on, until you're ready,'" she said. "I said, 'I don't think I'll ever be ready.' That man turned around, gave me a hug, and cried with me off-camera."
In a horrible turn of events — Ron Savage died less than 24 hours later. He went into cardiac arrest after a training exercise with the Milford Fire Department where he was a volunteer firefighter.
No one could have ever guessed that the story he did about Reginald would be his very last.
"So in honor of him I'm going to do this every year for Reginald and Ron," Latrice said.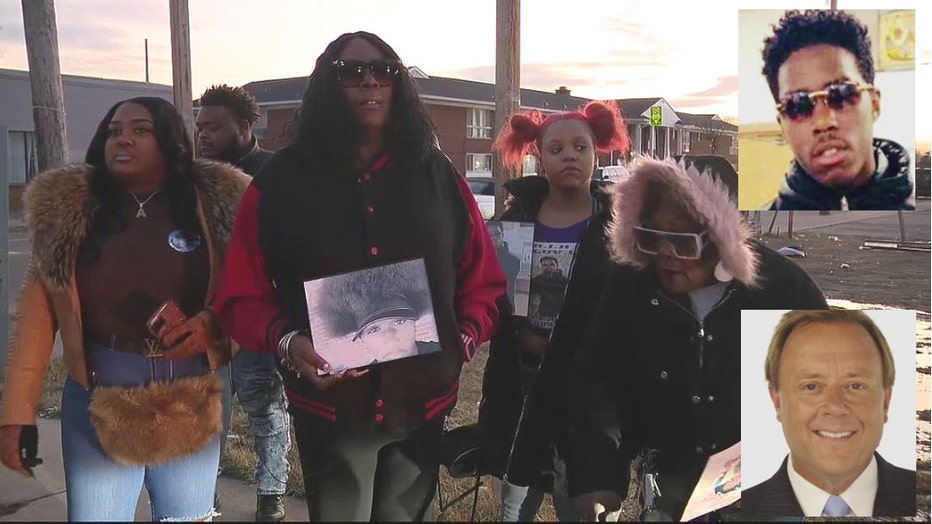 Latrice Foster and her family. Inset top: Reginald Robinson, Latrice's son and bottom, FOX 2's Ron Savage