Detroit fire chief crashed department vehicle while under influence of alcohol, sources confirm
DETROIT - A Detroit fire chief is under investigation for driving under the influence of alcohol when he crashed a department vehicle early Monday morning, according to multiple sources.
Two sources separately confirmed the news with FOX 2 after images appeared showing a vehicle hanging over the Lodge Freeway.
According to the sources, the driver is a chief in the Detroit Fire Department and was under the influence of alcohol when he crashed. 
Crews had made unsuccessful attempts earlier in the morning to contact the chief by radio, sources say. 
According to Detroit Fire Commissioner Eric Jones, an acting battalion chief with the rank of a captain who is assigned to Ladder 6 was called to assist with a vacant house fire near Joy and Livernois around 1 a.m. on Monday.
While driving to the fire, Jones said he was involved in a single-car crash. A breathalyzer was not given, according to Jones. Instead, the captain was taken by other DFD staff for alcohol and drug screening and he was found to be intoxicated, Jones said.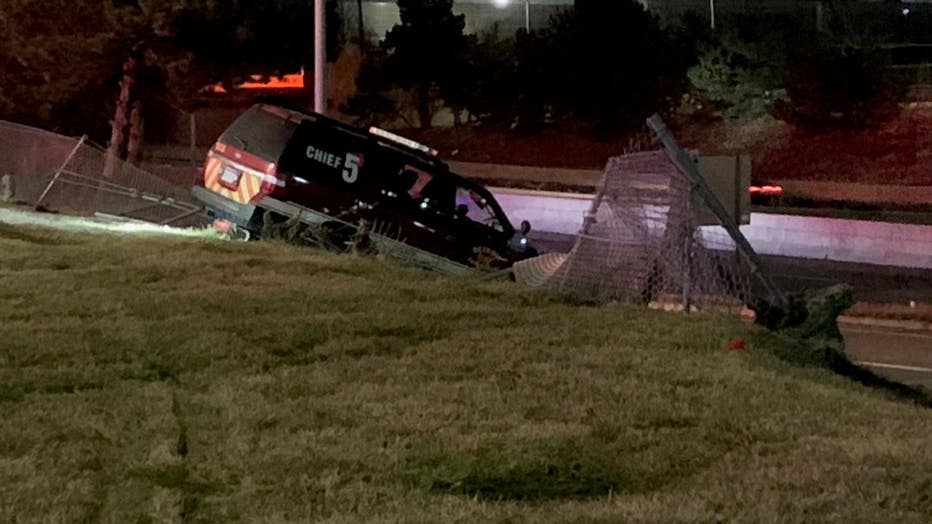 A Detroit Fire Department vehicle with the decal "Chief 5" on a back window.
Charges are pending and, according to Jones, the punishment for alcohol consumption while on the job is termination.
On Tuesday, Detroit Fire will be laying out a plan to take a "deep dive to look at why some individuals think it's okay to drink alcohol on duty."
Detroit Fire Department did not immediately release a statement. However, Deputy Fire Commissioner Dave Fornell said the battalion chief is being investigated. The driver lost control and had an accident, he said. 
Images after the incident show a Detroit Fire Department SUV with the decal "Chief 5" on the back right window that had driven through wired fencing over the highway.
The SUV's front tires could be seen hanging over the barrier separating the road from a hill. 
The vehicle was photographed with its tires hanging over the Lodge Freeway after it had crashed through wire fencing.
Police had shut down multiple lanes while they assessed the situation.
It is the second recent suspected Detroit Fire drunk driving crash being investigated.
RELATED: Detroit firefighters under investigation for alleged drunk driving rig crash after party
This is a developing story. Check back later with FOX 2 for more details.