Detroit police officers save runner who suffered cardiac arrest in Free Press marathon
DETROIT (FOX 2) - Two Detroit police officers Dario Sharp and his partner Troy Wesley were on a routine patrol at the Detroit Free Press Marathon Sunday when suddenly a runner collapsed.
A 26-year-old man was in cardiac arrest at Kirby and Cass. The officers immediately started running towards him and then began doing CPR.
"I was just hoping he wasn't gonna did on me that's it," said Sharp.
"As he started the compressions he asked me could you take over," Wesley said. "As I took over, he constantly kept his wrist and maintained reading of the pulse."
A good Samaritan also jumped in to help.
"She asked me, she said 'Can I give rescue breaths?' (I said) if you're comfortable go ahead and she went right into it," Sharp said.
There were so many tense moments.
"It was a pretty complex situation but we made it happen," Sharp said.
The runner is now recovering at Henry Ford Hospital
"I'm so happy that he's doing well because losing a pulse twice - from my partner - we didn't lose our edge, we got him there," Wesley said.
"Just listening to them being both so humble and here they are running against the grain, they didn't talk about that all those runners coming at you - to run against the grain," said Chief James White. "And then after getting a pulse and EMS showing up, also blocking traffic for EMS. That's just amazing work and I'm a very proud chief today, just outstanding work."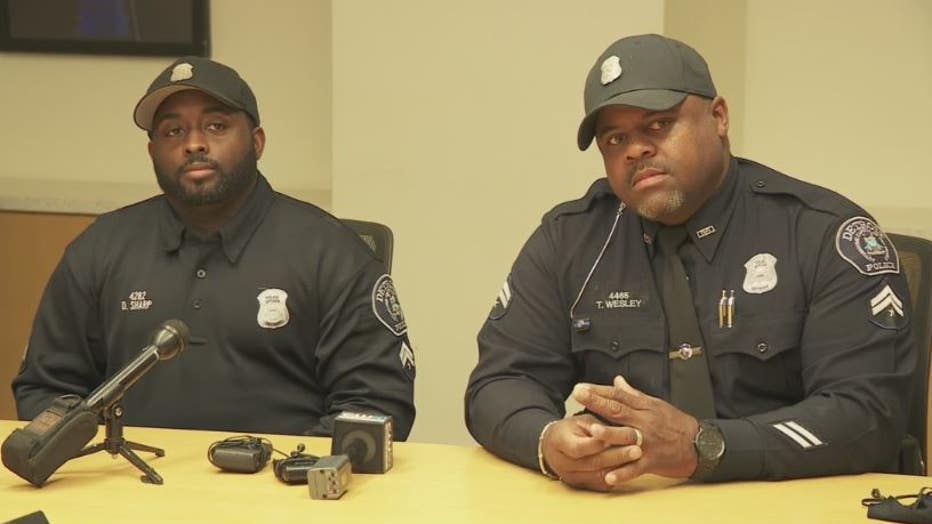 Detroit police officers Dario Sharp and Troy Wesley.
But these officers don't consider themselves heroes.
"I just did it as part of a job it is what DPD trained us to do," said Sharp.
"I'm quite sure any police officer would have done the same thing but i'm just glad we were there to save this young man," Wesley said.
"It feels good, it was a good feeling," Sharp said.