Detroit police shoot armed suspect who locked self inside gas station
DETROIT (FOX 2) - Detroit police shot an armed man who locked himself inside a gas station and was seen behaving erratically before pointing a handgun at officers, the chief said.
The man was heavily armed when he walked inside a Citgo gas station on the city's west side, before locking the door. The suspect's actions prompted a clerk to call 911.
Responding officers approached the gas station behind cover and told the suspect to drop the weapon as he pointed it at them. Chief James White said that four to five shots were fired, wounding the suspect.
"Very unusual circumstances," White said. "We're not sure if robbery was the motive. He was heavily armed, walked into the business, and locked the door. Clearly there was something nefarious in his plans."
The incident happened around 7:20 a.m. at a gas station located near Eight Mile and Berg Road. Witnesses near the gas station that spotted a large police presence at the gas station said all the officers had their guns drawn.
"We came upon this light and we saw a bunch of cops on the side of the gas station," said Rhonda Jackson. "One cop had his gun drawn and then it just seemed like all the cops started drawing their guns."
White said the information released late Monday morning was preliminary, but the suspect was alert and talking but still in serious condition. He was heading for surgery during the chief's update.
The suspect is in his 30s and had multiple firearm magazines on his person. 
Someone who lives nearby had walked to the gas station and tried going inside when they saw the suspect behind the door, who waived a gun at them to go away. The individual then called 911 as well.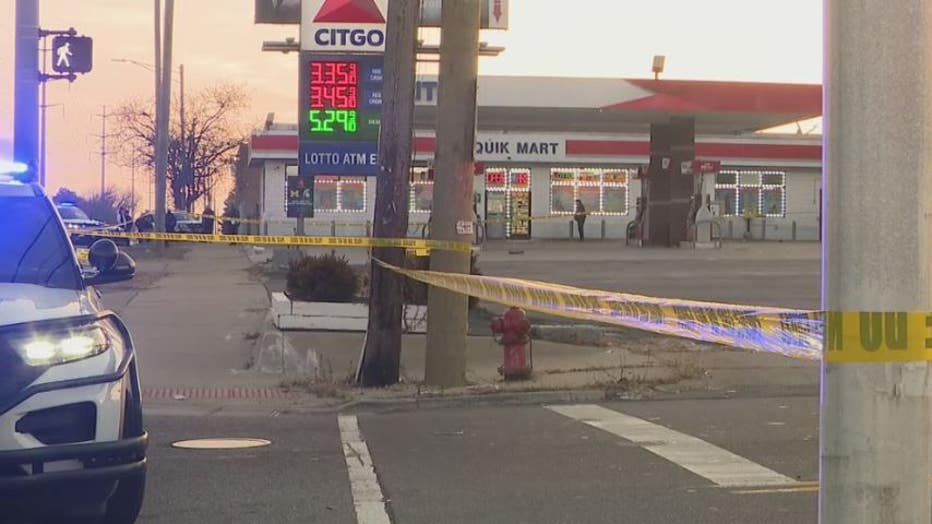 Detroit police respond to shooting involving officer on Eight Mile.
The suspect continued to pace at the front of the store and behave strangely before police arrived. 
Both Detroit police and the fire department responded to the location, which is part of DPD's Project Green Light, which enabled the department to see the suspect's movements in real time. 
As officers approached the location, they could see the suspect standing at the door. He then points his gun at police who shouted to "drop the weapon." Police then fired shots, striking the suspect and blowing out the glass door.