Detroit's $10M Shot Stopper program empowers community groups to help prevent crime
DETROIT (FOX 2) - The community groups chosen for a Detroit pilot program have been working in the city's neighborhoods for years - some for more than a decade and using their own money.
The Shot Stopper program is a $10 million investment by the city in these organizations as a show of support.
For every shooting scene in the City of Detroit, there is a display of heartbreak and hopelessness surrounded by yellow tape.
"Individuals didn't start the day planning to shoot somebody, but they were having a gun on them illegally just in case. And a flash of anger turned into a tragedy that changed lives for good," said Mayor Mike Duggan.
Months after declaring to reduce gun violence in his city, Duggan is following through with one of his biggest plans to date.
At a rec center on Detroit's west side, he announced the six nonprofits, which will participate in the Shot Stopper initiative, including Detroit 300.
"When my mom was murdered, I told her when I was 17, I told her at her casket," said Eric Ford of Detroit 300.
FOX 2: "You said you stood at your mom's casket after she was murdered, you made a promise to turn your neighborhood around, turn your city around. If she was here now, what would she say about this moment?"
"Oh man, every day I just look up..every senior that tells me good job, I just feel as though I'm talking to my mother," said Ford.
A map shows where the groups will work.
The other five organizations are Detroit Peoples' Community, New Era Community Connection, Force Detroit, Wayne Metro/Denby Alliance/Camp Restore and Detroit Friends and Family.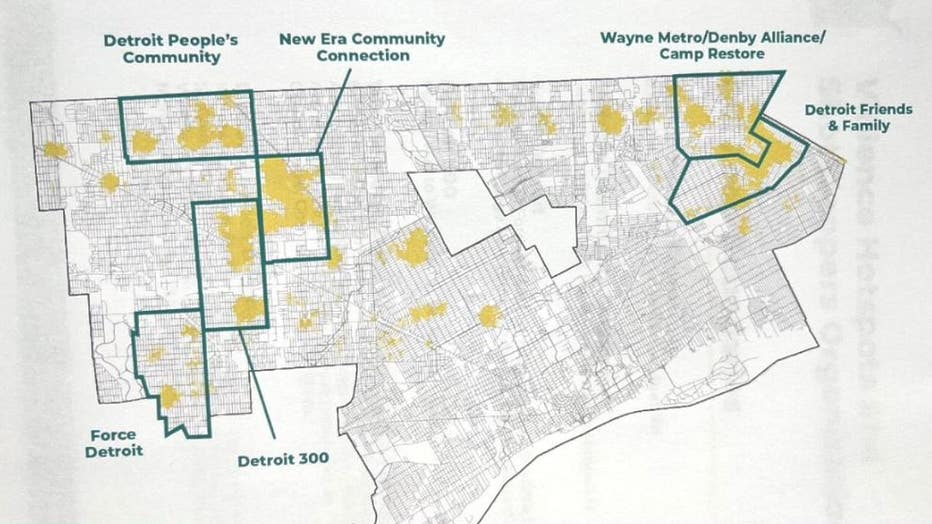 Community member Joyce Tatum works with these groups.
"I'm so elated about this, and I'm so surprised like this is happening with our city," said Tatum, grandma and radio patrol president. "So, yes, I'm surprised and happy."
FOX 2: "What are the emotions behind that smile?"
"I need help, and I got it," she said.
Here's how the Shot Stopper program breaks down:
"Each contracted group is responsible for improving the quality in a 3-point-5 to 4-point-5 square mile area — known as a CVI Zone. The groups will receive $175,000 each.
Then, there's the incentives:
If a group is 10 percent more successful in reducing violence than the city over the course of a quarter, they'll receive an $87,500 bonus or a $175,000  bonus for a 20 percent improvement.
It's funded by President Joe Biden's American Rescue Plan Act.
Related: New Detroit Shot-Stopper program pays $700K to community leaders who reduce violence
Only three were supposed to be chosen but since six proposals were so strong they added more groups.
Detroit City Council President Mary Sheffield, who's dedicated her time in office to fighting gun violence, says the plan is to provide resources for mental health, skills training, and conflict resolution.
"We're not allowing the government to do this now," she said. "We're leaning on organizations now who are embedded in the community, who are going to build relationships, reach out. They have what we call, street credibility. They know these areas (and) the unique needs of these zip codes."
The Shot Stopper program officially begins July 1st. City leaders will evaluate progress by August 1st.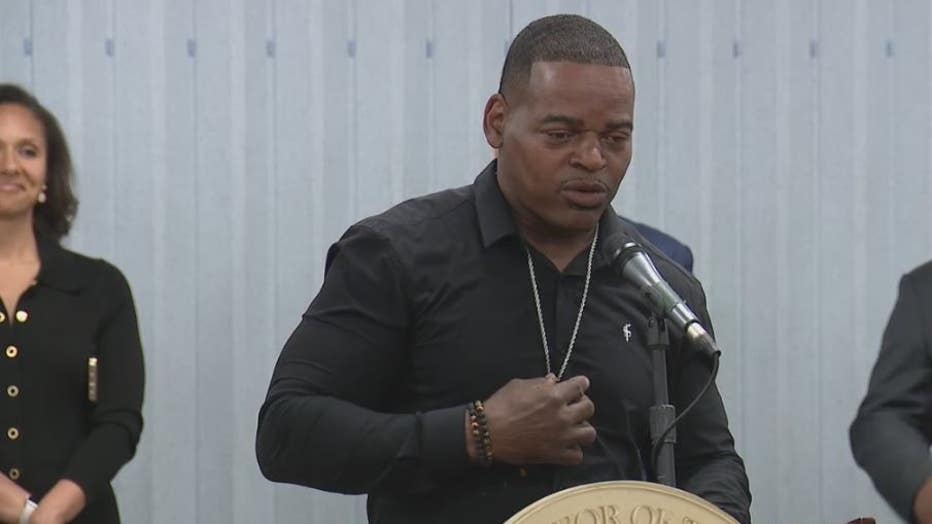 Eric Ford of the community activist group Detroit 300.