Detroit's Baobob Fare chef wins Chopped on The Food Network
DETROIT (FOX 2) - It's been more than four years since we first featured Mamba Hamissi when he and his wife, Nadia Hamisi, opened Detroit's award-winning East African restaurant, Baobab Fare. They're still chasing their dreams and, on Tuesday night, Hamissi was crowned the most recent champion of Chopped.
"It's just amazing to see the love and the support that we are having," Mamba said. "Sometimes, when I think about it I want to cry. I don't want to go there now."
While his episode aired Tuesday night, the competition was done last year - but he had to keep quiet about the win, which was a long day of work.
"It's a long day. From 5 a.m. to 9 p.m. It's a long day. You can imagine dealing with the stress, pressure - it's intense," Mamba said.
Mamba grew up in Burundi and learned to cook from his mother. But on Chopped, he was given ingredients including scallops and ostrich - which were completely new to him.
He was determined to bring his homeland, its rich spices, and way of cooking to the show.
"We created something and everyone has a story to tell," he said. "I felt like I was sharing food with amazing people that I love."
Mamba was impressed with all of his competitors and their talent and struggles, but the judges learned about his struggles as well.
Mamba and Nadia are refugees who fled political persecution and sought asylum in the U.S. through Freedom House Detroit. There, they found food, shelter, legal representation, language, education, and a future.
"We wouldn't be here without Freedom House. We wouldn't be who we are without Freedom House," Mamba said.
They're going to donate their winnings - $10,000 - to Freedom House to fund the building of a new kitchen.
"I feel like people living at Freedom House, they need this amount of money more than we dp," Mamba said.
Freedom House recently moved in to a different facility with a small and out-of-date kitchen. All while still serving more than 100 refugees from all over the world every year.
"Our kitchen was not built for that many people, so it is a substandard kitchen and so it was just beautiful for him to see that and say 'I'm not going to let my home - my second home - look like that'," Freedom House CEO Elizabeth Orozco-Vasquez said.
Freedom House is constantly raising money to cover food, shelter, and legal representation. But his $10,000 is just a start.
"We started a campaign so we can build a kitchen so we are trying to raise $120,000 so we can build a kitchen at Freedom House because they don't have a kitchen and that is what we can bring and we can share with people," Mamba said.
To help Freedom House reach that goal, check their page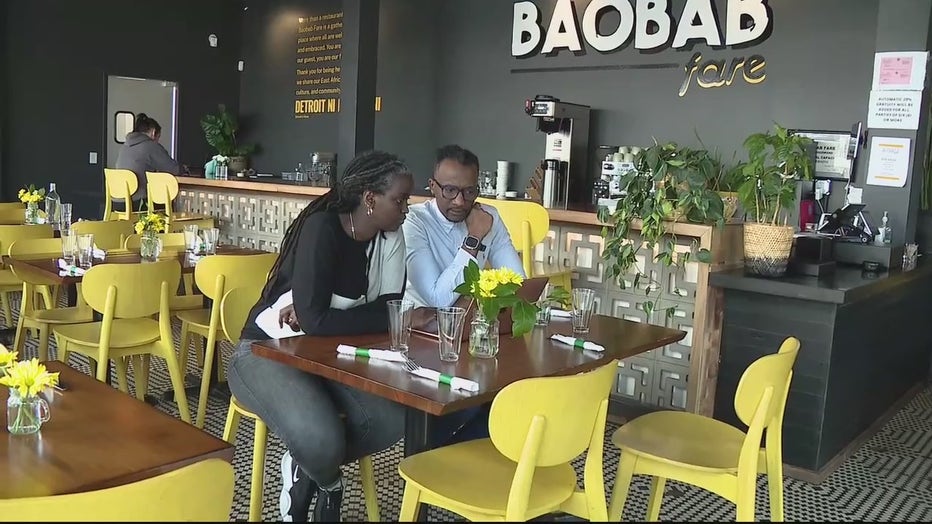 Mamba Hamissi when he and his wife, Nadia Hamisi at Baobob Fare in Detroit.