Drew and Mike to reunite for podcast series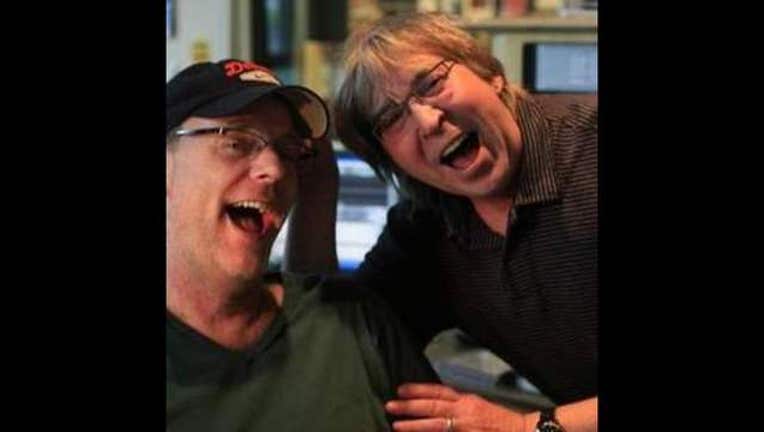 article
Drew and Mike, the salty duo who ruled Detroit morning radio for more than a decade, will reunite next month for a daily podcast that launches almost three years to the date that their epic run on WRIF 101.1 FM ended.
Drew Lane tells FOX 2's M.L. Elrick he and Mike Clark have been laying the groundwork for a new show that will be broadcast from a top-notch studio being built in Lane's basement. News of the reunion had been rumored on Facebook and Twitter and, based on reaction this morning to my posts about their new gig on Facebook and Twitter @elrick, thousands of diehard fans eagerly await their return.
Loyal listeners had been clamoring for a reunion since Drew and Mike went their separate ways after WRIF replaced them with Dave and Chuck the Freak in mid-May of 2013.
Mike has been the least active of the Drew and Mike crew since they left WRIF. Longtime Drew and Mike news maven Trudi Daniels resurfaced as a host of WCSX 94.7 FM's morning show, while Drew anchored a podcast featuring most of the rest of his crew that broadcast from the basement of producer Mike Wolters' home in Franklin. Known as the "Drewcast," it lasted until Lane and former producer Marc Fellhauer were hired to do an afternoon sports and pop culture-themed show for WMGC 105.1 FM when that station flipped to an all-sports format.
Lane left the station last year in a dispute over the show's format. Station officials wanted a more sports-oriented format, as well as a third host. Lane disagreed and left. Fellhauer ended up as a co-host on the station's morning show. Matt Dery and Drew Sharpe, their replacements in the afternoon drive-time slot, didn't last long.
Wolters continues to host a podcast, known as "The Detroitcast."
Drew says Mike will appear on the new podcast about two times a week. Drew will anchor the show four to five days a week, and may bring in guest hosts.
"This is the right thing for both of us right now," Drew says. "We still have a lot to say and, hopefully, people that want to hear it.
"Podcasting gives us a lot of freedom schedule-wise and it frees us from another pain in the ass: The FCC. No restrictions, self-imposed or otherwise on topics or language. This is very intoxicating and should give the show an edge that maybe we lost along the way between Janet Jackson and potential fines of 300,000 bucks hanging over our heads."
Drew says he is not expecting to earn a living from the podcast, but hopes it will eventually turn a profit.
"My goal is to do some great shows in an ideal environment, and if it provides income, that is a bonus. I imagine some people will be too cynical to believe this, but Mike and I have not once even discussed money in regards to this venture. We just want to do the show and have a good time doing it."