Ethan Crumbley's text message foreshadowing school shooting revealed: 'I'm about to do something really bad'
OXFORD, Mich. (FOX 2) - As Ethan Crumbley awaits a decision on whether he will spend life in prison, text messages released as evidence during the hearing seem to indicate Crumbley's plans of a shooting at Oxford High. 
The messages were from Crumbley to his friends foreshadowing the 2021 school shooting.
Friday's hearing resumed at 8:30 a.m. You can watch it on this link
A series of chilling text go into detail of what Crumbley wanted to carry out at the school.
Ethan Crumbley said Oxford High School shooting was 'for the right of humanity' night before crime
An officer testified during the hearing and went into detail about the messages which were displayed in the courtroom.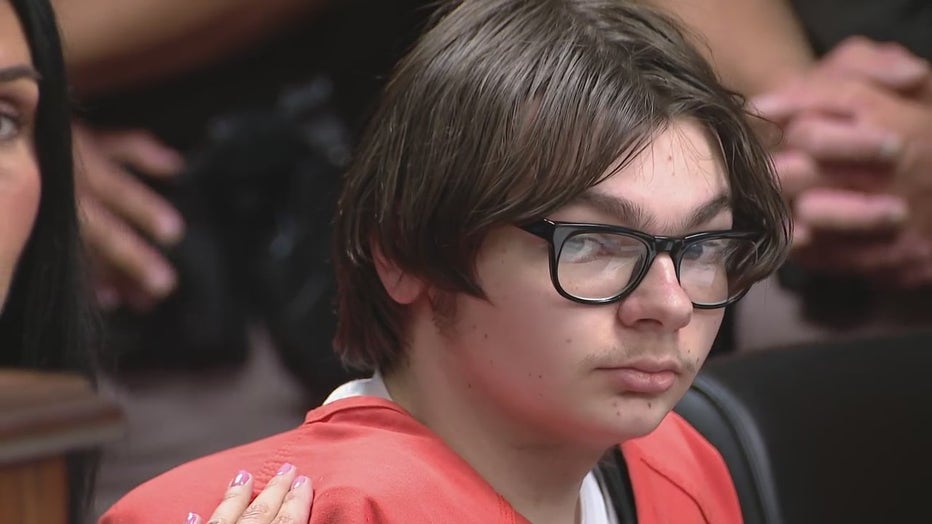 Ethan Crumbley during his Miller hearing on July 27, 2023
In the message written on Nov. 30, 2021 Crumbley writes "Hey man.  Times have gotten rough ever since you left. I don't know if you are dead or you moved away but I hope your doing well.  I'm about to do something really bad and there is no turning back so I will probably never be able to see you again. I hope the best for you and I'm sorry for anything I have ever done."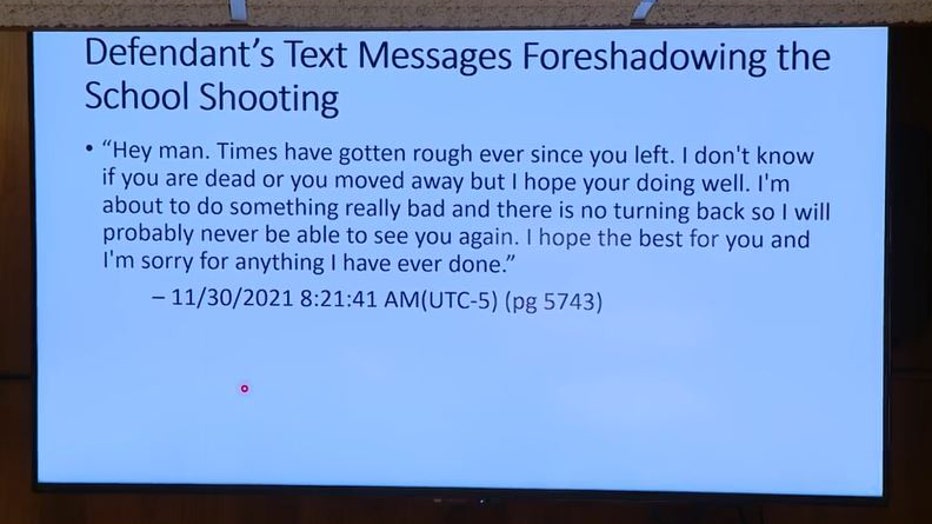 Screenshot of Ethan Crumbley's text message foreshadowing school shooting revealed during hearing. Thursday, July 27, 2023. (WJBK) 
In one message from May 12, 2021, Crumbley discussed violence against another student at Oxford High School.
"Kidnap her then tie her up then rape her then torture her then kill her then dissect her then take her eyeballs then bury the body," he wrote.
A week later on May 20, 2021, Crumbley wrote "I'm not going to get caught man….I'm going to bring my gun just in case full air and pellets….basically deadly…but I have full land on how to kidnap her…it's just super risky."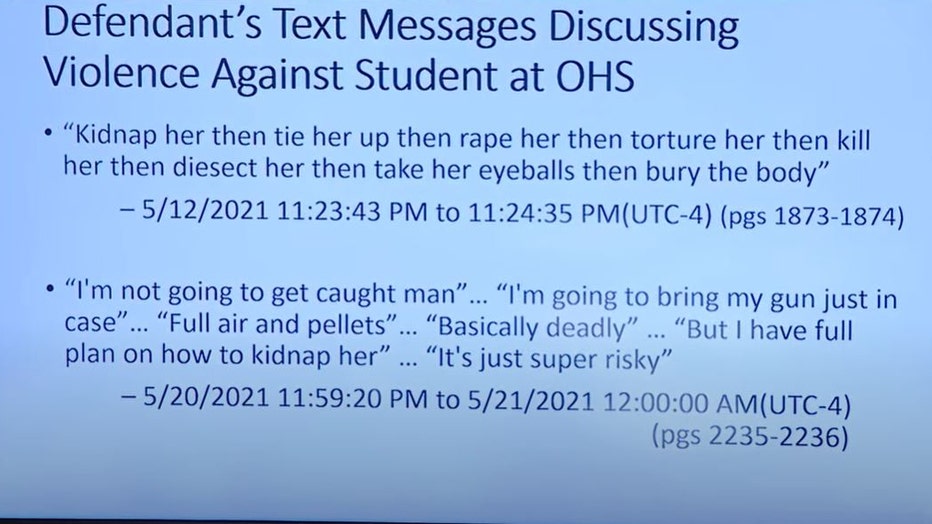 A screenshot of a text message from Ethan Crumbley from 2021 describing an attack he wanted to commit on another student. (WJBK)
Additional text messages from Crumbley described hurting children and others. 
"Just looking them in their eyes as they look back at you while they know that their entire life is about to end so young..the best feeling.  But stick your fingers into their eye sockets and push down do they scream in pain and drown their lungs with water.  Just thinking about the torturing and the screaming and the way their legs flail in the air as they cry…it fills the void."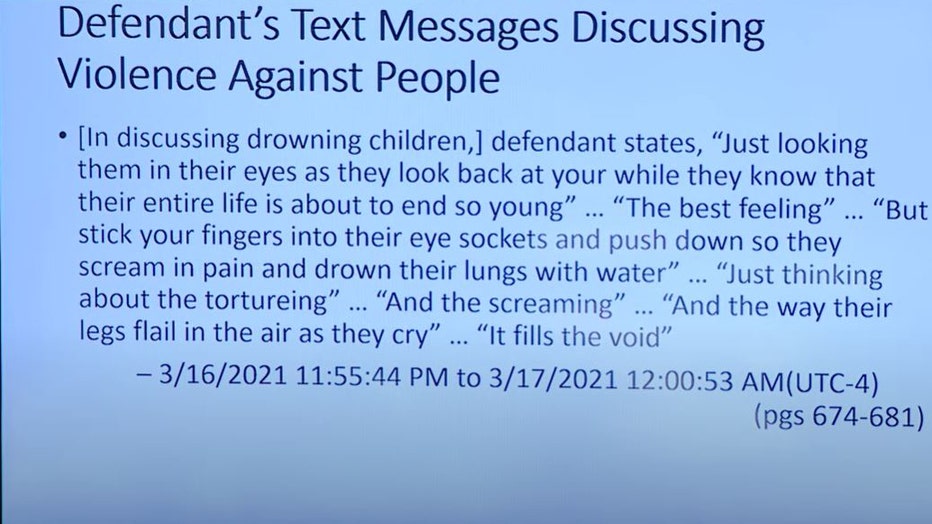 Screenshot of a text message where Ethan Crumbley describes in detail violence against others (WJBK)
In other messages, Crumbley wrote in part "Whenever I see a little kid about a year old or a little more I want to pick them up and run off with them then torture them before throwing them off a cliff."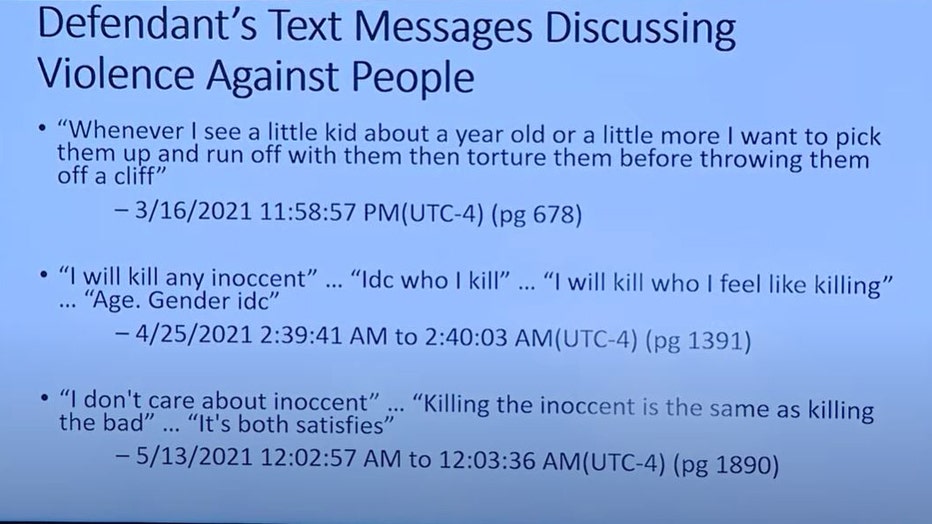 Screenshot of a text message where Ethan Crumbley describes in detail violence against others (WJBK)
RELATED: WATCH: Judge deciding if Ethan Crumbley should get life without parole for Oxford High School shooting
Crumbley pleaded guilty to 24 charges, including first-degree murder, attempted murder, and terrorism. But because of his age, the now-17-year-old is entitled to a unique hearing at which a judge will look at his family life, mental health, and other factors
The Miller hearing will determine if a minor can be sentenced to life in prison without parole. 
Crumbley was 15 when he killed four students and wounded seven other people at Oxford High, 40 miles (64 kilometers) north of Detroit, in November 2021. 
RELATED: 'Maybe it's just my paranoia': Phone records show Jennifer Crumbley ignored texts from Ethan about demons
Earlier that day, he and his parents had met with school staff after a teacher was troubled by drawings that included a bloody body and a gun pointing at the words, "The thoughts won't stop. Help me."
A life sentence is rare for Michigan teens convicted of first-degree murder since the U.S. Supreme Court in 2012 said minors must be viewed differently than adults, the Associated Press reported. 
The Associated Press contributed to this report. This story was reported from Washington, D.C.