Fight leads to gunfire outside Warren high school; police say it knows who suspect is
WARREN, Mich. (FOX 2) - Police officers responded to Michigan Collegiate High School and middle school in less than a minute. No arrests were made, but investigators say they have a lead on the suspects.
"I'm a CPL holder, so I was about to get my babies by any means necessary," said Ethan Shaw, parent. "Kids outside by the side of the building, police over on this side, stuff was taped off."
Shaw, a father of three students at both the high school and middle school in Warren, say they were all safe. There were no injuries, but it could have been worse.
"The potential was there, no question about it," said Warren Police Commissioner Bill Dwyer.
Dwyer says it started when a high schooler got suspended earlier in the day, Monday. Then, some communication between two groups at the school led to a meeting in the parking lot at the end of the day.
"It's really quite frankly ridiculous, that it would escalate to this level," he said.
The suspended student returned, which led to a fight - then gunfire. 
"One of the suspects pulled out his weapon and shot at least six times in the air," he said.
Police were there in less than a minute – the sirens driving the suspects away. But police know exactly who they're after.
"I've indicated it would be to their benefit, to his benefit to turn himself into the Warren Police Department," Dwyer said.
Warren police know who they're looking for, but do want to talk with witnesses as there were dozens of students out here.
If you know more about what happened call the Warren police at (586) 574-4700.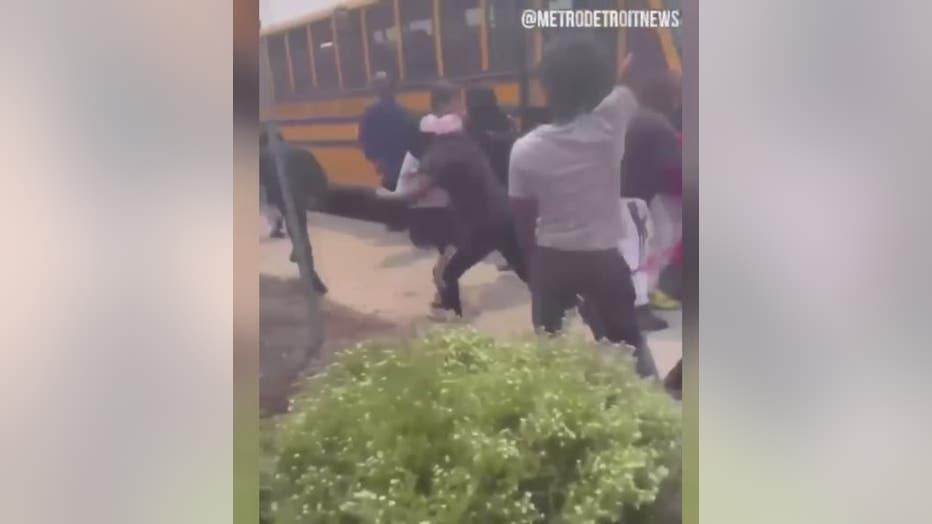 Photo still frame from video courtesy Metro Detroit News