Massive warehouse fire in Melvindale prompts precautionary shelter-in-place order over chemicals
MELVINDALE, Mich. (FOX 2) - A warehouse in Melvindale was left a pile of smouldering debris after a blaze that started at midnight tore through the structure Thursday morning.
It happened on Allen Street near Outer Drive.
The fire also prompted a precautionary shelter-in-place order for nearby homes due to the possibility of chemicals in the air. 
Chemicals were "definitely a problem" for firefighters, said the Melvindale chief, who said they used ladders from three different trucks to get it under control.
"Flames were through the roof," he said. "There's not much to do but defensive tactics."
In addition to the chemicals, the wind was also a factor in pushing the flames around. 
Additionally, the building's gas shutoff was inside so crews were unable to reach the turn-off point. Instead, Dearborn's fire chief said, they help from DTE in locating the shutoff point outside the building.
While no injuries were reported, residents in the area of Allen Road and Outer Drive were asked to shelter in place as firefighters worked to dampen the fire.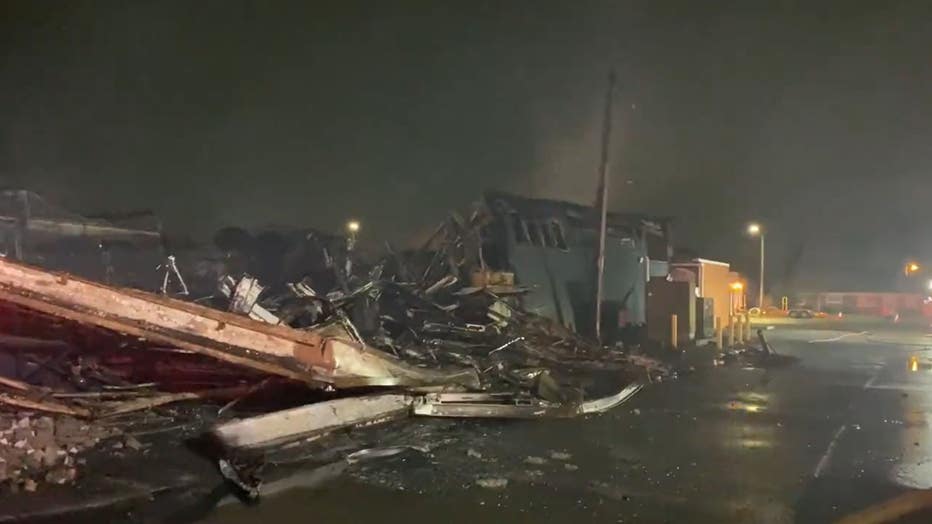 Crews had been battling the fire since 12:30 a.m. when they came upon the warehouse already engulfed. 
The fire also shutdown traffic on Allen Street at Outer Drive.  
It's unclear what started the fire.