'Flooding from sewage': Mother of ex-inmate in Wayne County juvenile center shares horrific conditions
FOX 2 (WJBK) - A State Senate committee is looking at the claims of low staffing, funding and overcrowding at the Wayne County Juvenile Detention Center - which caused Executive Warren Evans to declare a state of emergency over.
"They have flooding from sewage," said Dinah Campbell. "My son literally called me and said 'Mom there's literally poop floating through the hallways. urine and feces."
Campbell spoke about what she calls inhumane living conditions her son Brian faced while doing time at the Wayne County Juvenile Detention Facility.
Now an adult, he was released last year after reportedly being detained for seven months.
"I couldn't visit him, number one, when he was in there," she said. "Two, he told me that he was receiving moldy food.
"Those kids were locked in those cells almost 24 hours a day. Not allowed to shower. They were actually taking bird baths in the little sink that's provided for them inside of their cells and they had to eat in their cells."
Wayne County and City of Detroit sources blame overcrowding and understaffing as reasons for keeping the juvenile inmates in their cells for long periods of time.
The county is saying the state needs to step up - while the state is pointing the finger back.
In addition to the reported problems at the facility, one top official was fired and another was reassigned after an investigation into allegations of sexual assault of a 12-year-old boy. That investigation continues.
"At the country level can you talk about some of the organizations that provide those wrap-around services?" asked State Sen. Sylivia Santana (D-Detroit).
The problems were the subject of a State Senate hearing where Wayne County officials affiliated with the Juvenile Facility made their case.
"This is a statewide problem," said Assad Turfe, deputy Wayne County executive. "I know Wayne County is getting all the attention. We are the biggest county in the state of Michigan and we got the biggest problem."
Wayne County's CEO declared a public health emergency at the juvy jail due to the overcrowding. More than 140 children are in there and the capacity is 80.
Sources say the overcrowding problems are related to inadequate long-term support for kids who are supposed to get out - essentially meaning that some stay, even at the end of their cases.
"The staffing issue is problematic but we've got to go deeper than that. You got to look at why this stuff is occurring," said Leonard Dixon, juvenile justice expert.
Dixon was the man tasked with fixing the Wayne County system in the 1980s, according to lawmakers running the hearing. Now he's working with the Juvenile Facility in Chicago.
He was brought in to testify about his experiences.
"If you have 13 -16 year olds, they have another level of energy that adults don't have," Dixon said. "And so they're more impulsive. They're angrier. They make decisions, that's why they are called juveniles. They just make decisions and don't think them through."
Dinah says something has to be done and soon.
"They just need more money into the kids like they say they do instead of just giving them the minimum," she said. "Because that's what I feel like they do. They literally give them the minimum."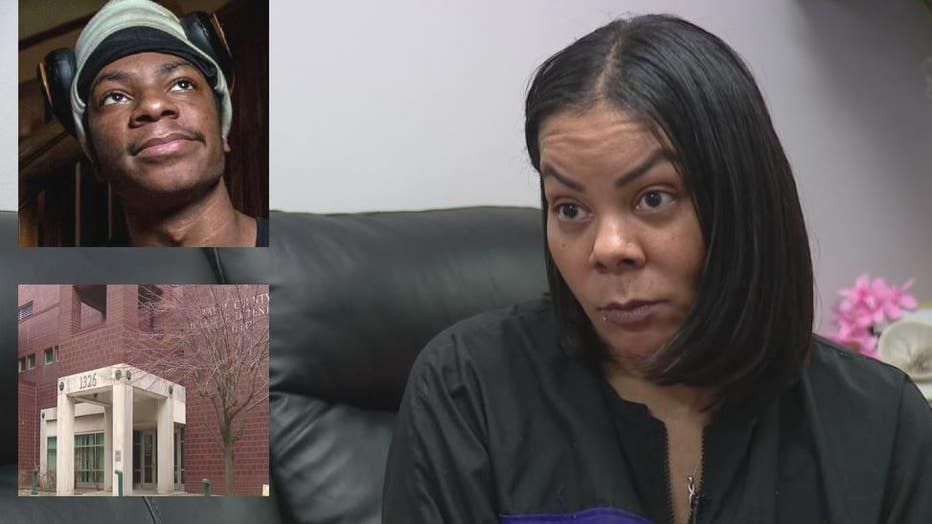 Dinah Campbell, top inset: Campbell's son, bottom inset: Wayne County Juvenile Detention Center.