General Motors partners with Tesla for access to charging stations across North America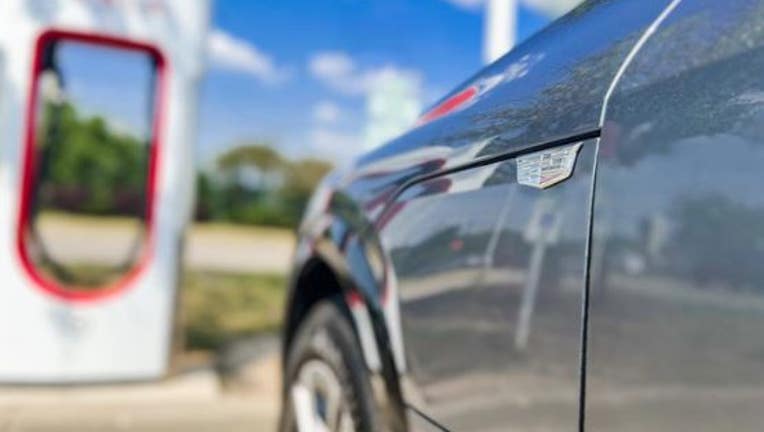 article
FOX 2 (WJBK) - General Motors announced a partnership with Tesla for electric vehicle access to its 12,000 Superchargers on Thursday,
GM will integrate the North American Charging Standard Connector design into its EVs beginning in 2025. The Tesla Supercharger Network will be open to GM EV drivers starting in 2024 and will initially require the use of an adapter.
GM CEO Mary Barra made the announcement with Tesla CEO Elon Musk during a Twitter Space.
"You and I both know that in order to drive EV adaption we need to have a robust charging infrastructure, so I am really excited to announce our collaboration with you and Tesla," she said. "We plan to adapt the North American Charging Standard and we are working really hard that our first vehicle will come in 2025.
"What is even more exciting is that our existing EV customers can leverage the 12,000 Tesla fast chargers early next spring with an adapter."
Beginning in 2025, the first GM EVs will be built with a NACS inlet for direct access to Tesla Superchargers without an adapter. In the future, GM will make adapters available for drivers of NACS-enabled vehicles to allow charging on CCS-capable fast charge stations.
Musk said that Barra has his company's full support adding that he was excited to partner on this.
"We want to make it a fantastic EV experience whether someone is driving a GM car or a Tesla," Musk said. "We're honored to have you join us."
Barra said this move doubles access to charging options for GM EV owners.
Recently Ford Motor Company made a similar announcement with CEO Jim Farley joining Musk on a Twitter Space.
"This agreement complements GM's ongoing investments in charging, reinforcing the company's focus on expanding charging access across home, workplace, and public spaces and builds on the more than 134,000 chargers available to GM EV drivers today through the company's Ultium Charge 360 initiative and mobile apps, said a release from GM. "GM will also integrate the Tesla Supercharger Network into its vehicle and mobile apps, helping drivers quickly and easily locate, pay for, and initiate charging at available Tesla Superchargers. This will complement the charging experience at the growing Ultium Charge 360 Network of charging stations, as well as additional charging stations GM makes available through existing integrations with other charging networks."