Tesla partnership will allow Ford EV owners to use charging stations across US and Canada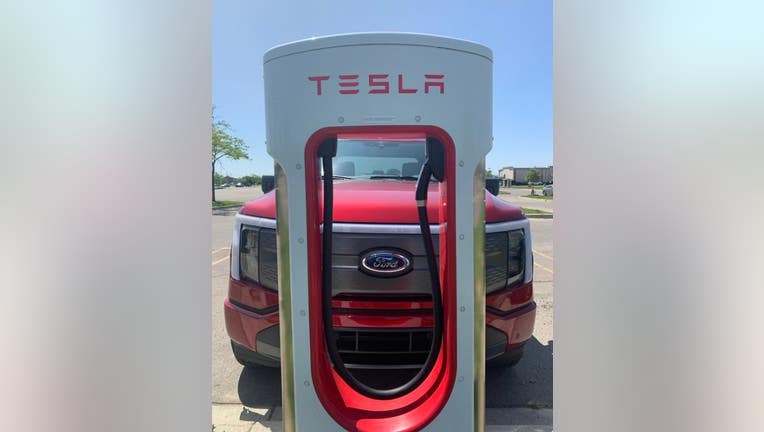 article
FOX 2 (WJBK) - Range anxiety for electric vehicle owners driving Ford products will soon be able to pull up to Tesla charging stations.
Starting early next year, Ford EV customers will have access to more than 12,000 Tesla Superchargers across the U.S. and Canada. There are 10,000 current charging stations for Ford owners in the current BlueOval Charge Network.
Tesla CEO Elon Musk and Ford Chief Executive Jim Farley made the joint announcement on a Twitter Spaces call. 
"It's super exciting to be in a partnership with Ford, I have a lot of respect for Ford as a company and it makes great vehicles," Musk said. "We're super happy to support Ford vehicles with the Tesla supercharging network and also provide API access, so like a Ford vehicle can charge at a Tesla Supercharger using the Ford app seamlessly."
Mustang Mach-E, F-150 Lightning and E-Transit customers will be able to access the Superchargers via an adapter and software integration along with activation and payment via FordPass or Ford Pro Intelligence.
Farley said that the second generation Ford electric vehicles will be equipped with North American Charging Standard connector built-in in 2025, eliminating the need for an adapter to access Tesla Superchargers.
"I want to thank you Elon and your team you've been great to work with so far. I am excited about what this means for customers," Farley said.
Related: Electric vehicle charging stations installed on Belle Isle
Ford said in a release that the Tesla-developed adapter will provide Ford F-150 Lightning, Mustang Mach-E and E-Transit vehicles fitted with the Combined Charging System (CCS) port access to Tesla's V3 Superchargers.
"We are very much appreciate of Ford's interest in partnering with this front,it is in our intent to do everything possible to support Ford and have Ford be on an equal footing, at Tesla Superchargers," Musk said.