Gov. Gretchen Whitmer talks 1-on-1 about new state budget, power outages and Covid policies
WYANDOTTE, Mich. (FOX 2) - Governor Gretchen Whitmer celebrated the passage of her 2024 budget at one of the places that will benefit from some of the $82 billion being invested into the state.  
Flanked by Wyandotte fire trucks on Monday, she's promising an investment to first responders.
"We are also upgrading fire department facilities, all across the state from Marquette to Mount Clemens," she said. "And for the first time ever, this state budget dedicates resources, specifically to recruit, retain, train, and equip our first responders."
The new budget earmarks money for health care, preschool, meals for kids, higher education, housing, and workforce training, too. But all of it she says, is safeguarded by paying off debt. To see the new budget go HERE.
"We paid down billions in debt, we have over $2 billion in our rainy day fund," she said. "We created a school aid rainy day fund. So in the event that there are ups and downs in the economy in the future, we don't have to make any cuts in education or to first responders."
The governor also answered questions about two big issues that matter to you. We begin with power outages.
FOX 2: "There's a lot of concern. You know what happened with the power outages last week. There are some people without power still, does that concern you, and do you think enough i being done to fix it?"
Whitmer: "Of course it concerns me. People deserve to know that their power is going to be reliable and affordable. We also know that the severe weather events are going to continue."
FOX 2: "When you have conversations with DTE and these utilities about making things better, do you ask a question why is it taking so long? Why are we out for three or four days? Do you ask these questions right to the utilities?"
Whitmer: "Of course, I do."
FOX 2: "What do they tell you?"
Whitmer: "These are old systems, it's like our road infrastructure. For decades my predecessors did not put together a real plan to fix the roads, they just crumbled.  People say how come they're not all fixed yet. Well, we're doing a lot of work but guess what? This is decades of under-investment, we're seeing that in this space as well.
"We are going to continue to push to make sure that consumers are protected, and that the utilities rebuild their grids. But, it's a part of what the problem is, under-investment for too long of a period of time."
FOX 2: "Do you think the progress is good enough? Do you think it's moving at a good pace?"
Whitmer: "It's never good enough and that's why we push so hard."
The governor also answered questions about her strict restaurant policy during the pandemic. The Michigan Court of Appeals ruled that the state over-reached with their restrictions on indoor dining during Covid.
FOX 2: "If this was to happen again, perhaps you would change something?"
Whitmer: "You know what, there's no question that anyone who is wise enough and humble enough, would look back on decisions they've made five, 10 years ago, and say would I make those same decisions today? No, I have better information and I will make some different decisions."
FOX 2: "What those restaurants closing down be one of those decisions that you would have changed?"
Whitmer: "You know what Roop, I think that the nature of COVID-19 was such a novel virus, and it was killing so many Michiganders and overwhelming our hospital systems, that we did what we thought we had to do in the moment. A lot of states made the exact same decisions."
In a response to the governor signing, Republican senator Jim Runestad tells FOX 2 he wishes more money from the state's $8 billion-plus surplus was spent on the roads.
The budget earmarks $400 million, in part, to fix them. Runestad also says he wishes more money was given to help students with dyslexia. Advocates say Michigan is failing students who have it, worse than any other state.
To read the complete budget, click here.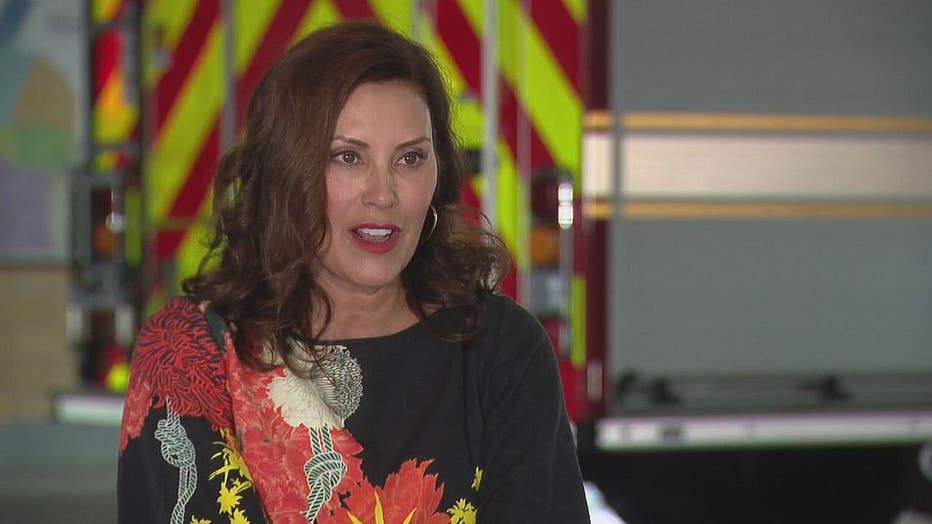 Gov. Gretchen Whitmer in Wyandotte