Griffin Claw releasing 4 varieties of Flying Buffalo bourbon barrel-aged stouts this weekend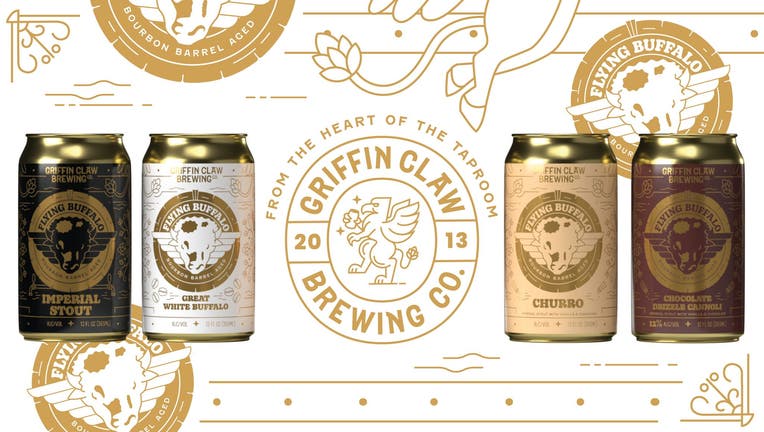 article
BIRMINGHAM, Mich. (FOX 2) - It's almost time to get this year's Flying Buffalo beers.
Griffin Claw Brewing Co. will have the barrel-aged stouts flowing beginning at 11 a.m. Saturday at its Birmingham taproom and the Clubhouse in Rochester Hills.
The original plus three varieties will be on tap and available in four packs:
Flying Buffalo Bourbon Barrel Aged Imperial Stout
This Imperial Stout is transferred to freshly emptied bourbon barrels immediately upon fermentation where it rests for 9 months in our climate-controlled Barrel House under the strict supervision of our brewers and cellar people.
Flying Buffalo Great White Buffalo (Vanilla and Coffee)
A big Russian Imperial Stout aged almost a year in bourbon barrels then blended with 2 parts fresh roasted organic Honduran coffee and one part Tahitian vanilla bean. Rich chocolate melds smoothly with vanilla and subtle coffee notes reminiscent of a fine Mexican Coffee Liqueur.
Flying Buffalo Churro
This Big Bourbon Barrel Aged Flying Buffalo Imperial Stout goes through a Churro-ing process immediately after aging with equal parts vanilla and cinnamon bringing flavors reminiscent of this sweet & doughy treat.
Flying Buffalo Chocolate Drizzle Cannoli
Aged 9 months in bourbon barrels before being rested on chocolate and vanilla combined with the boozy & rich stout creates a flavor experience as if you were tasting a creamy cannoli with chocolate drizzled all over it.
---
Four packs of any variety are $20. A pack plus a limited edition glass is $27, and just a glass is $15. 
Griffin Claw is at 575 S Eton St. in Birmingham and 2265 Crooks Rd. in Rochester Hills.