Honda recalls more than 330,000 vehicles with mirrors at risk of falling off
TORRANCE, Calif. - Honda is recalling more than 330,000 vehicles because heating pads behind both side-view mirrors may not be bonded properly, which could lead to the mirror glass falling out and increase the risk of a crash.
Vehicles included in the recall are 2020-2022 Odyssey, 2020-2022 Passport, 2020-2021 Pilot and 2020-2021 Ridgeline.
The National Highway Traffic Safety Administration said that the vehicles don't comply with the necessary rear visibility requirements.
Honda dealers will replace the side-view mirrors on impacted vehicles free of charge.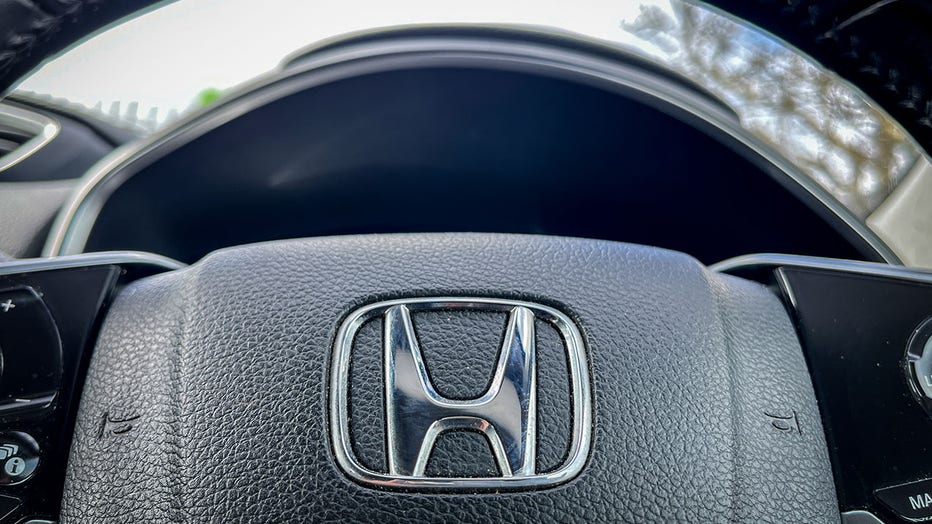 The logo of the Honda Motor Company is embossed on the steering wheel of a Honda car in Exeter on March 25, 2023 in Devon, England. Honda - a Japanese public multinational conglomerate and world's largest motorcycle manufacturer since the late 1950s
Owner notification letters are expected to be sent out on May 8. Vehicle owners may contact Honda customer service at 1-888-234-2138 or the National Highway Traffic Safety Administration Vehicle Safety Hotline at 1-888-327-4236.
This news comes on the heels of another recall issued earlier this month.
Honda announced it was recalling a half-million vehicles in the U.S. and Canada because the front seat belts may not latch properly.
RELATED: Honda to recall 500,000 vehicles to repair seat belt issue
This recall covers some of the automaker's top-selling models including the 2017 through 2020 CR-V, the 2018 and 2019 Accord, the 2018 through 2020 Odyssey and the 2019 Insight. Also included is the Acura RDX from the 2019 and 2020 model years.
Honda said in documents posted by U.S. safety regulators that the surface coating on the channel for the buckle can deteriorate over time. The release button can shrink against the channel at lower temperatures, increasing friction and stopping the buckle from latching.
If the buckle doesn't latch, a driver or passenger may not be restrained in a crash, increasing the risk of injury.
Stephanie Weaver contributed to this story.