Hutch's Jewelry murder: Witness gives explosive testimony behind Oak Park jeweler's homicide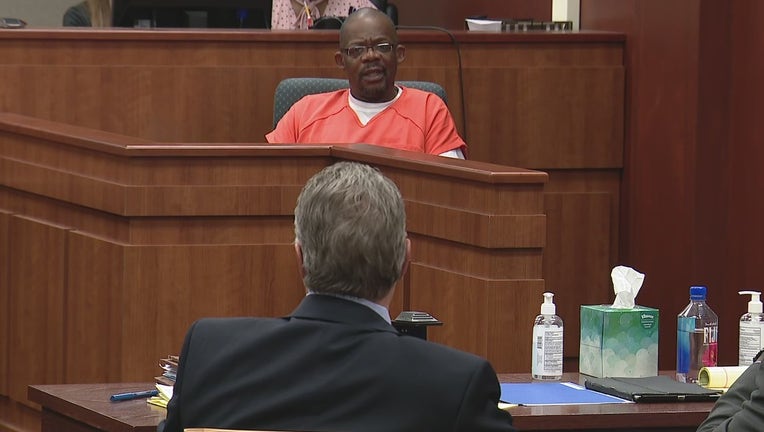 article
OAK PARK, Mich. (FOX 2) - The first time Darnell Larry heard about Daniel and Marisa Hutchinson was when a former colleague told him about a murder-for-hire plot in early 2022, he testified in a court hearing Friday.
Larry, who waived his right to a preliminary exam and pleaded guilty to conspiracy to commit murder of the well-known jeweler, said the Southeast Michigan Attorney Marco Bisbikis wanted the couple dead.
Bisbikis, Larry testified, was a ranking member of the mafia. He wasn't aware of many details of the relationship between Bisbikis and the Hutchinsons but was told they needed to die by a "certain time."
He heard about the plot from Angelo Raptoplous, another figure charged in the widening probe looking into the killing of the Oak Park jeweler. He then asked Bisbikis directly, who confirmed what Raptoplous said.
Bisbikis is accused of orchestrating the murder after allegedly writing himself into Hutchinson's will. He and Raptoplous allegedly instructed both Darnell and his cousin Roy Larry about the vehicle they should be looking out for. 
Roy Larry, who was also in the courtroom during Friday's testimony, is accused of pulling the trigger. 
The shooting happened on June 1, 2022, when Roy pulled up alongside the jeweler while riding an electric bike and fired several shots into the vehicle. Dan Hutchinson died from his injuries while his wife survived. 
She was in court last week when she was grilled for hours about Hutch's Jewelry's business practices and the relationship between the store and Bisbikis.
Darnell Larry testified that he came to know Bisbikisis after getting out of prison in 2016. The attorney had helped him in regards to a dispute with a former landlord at the time and the two maintained a relationship in the years ahead.
He first met Raptoplous when the two began working at a marijuana grow operation, which was located in Grass Lake whee he cared for cannabis plants before assisting in the distribution. He left the operation in 2021 and continued doing odd jobs. In early 2022, Darnell learned of the plot. 
In the months that would follow, Darnell testifies he was under pressure to carry out the murder. A short time later, he would meet up with his cousin Roy after attending their uncle's funeral. Darnell also said the original plan was to run the Hutchinsons off the road.
Conversations between the two from then on involved the Hutchinsons and carrying out the plot. 
It was around February when Darnell began to worry about the plan, testifying he even visited Hutchinson's jewelry store to warn the couple about the plan, but was told Daniel wasn't around. He tried calling several more times to warn them, but was unsuccessful. 
"It bothered me," Darnell said.
It also bothered Darnell that his own family had gotten involved and he didn't like that Bisbikis was prioritizing his own family. 
Meetings between Darnell Larry, Raptoplous, and Bisbikis also took place before and after the murder - sometimes at the firm and sometimes in the park. 
Shortly before carrying out the murder, Darnell had called his cousin Roy to tell him about the pressure, asking him if he would "know anybody outside of anything that can help me" carry out the plan. 
Then on Memorial Day, Darnell got a call from Bisbikis that the Hutchinsons would be coming to his law office on June 1. They were to kill the Hutchinsons then. 
Darnell testified that a $200,000 contract for the murder had already been received from mafia figures in New York and that both he and Raptoplous would receive $50,000 each "if everything went well."  
Roy Larry, the shooter, would receive a Chevrolet Camaro.
The shooting happened after Darnell parked an SUV he and Roy were traveling in that had the electric bike in. Roy then left and about 10–15 minutes went by before he heard gunfire. 
Marisa Hutchinson testifies
Marisa, who was granted immunity before testifying, revealed that the jewelry store didn't report all cash transactions because cash sales over $10,000 require businesses to file tax forms. So, Dan would take this unreported cash to Bisbikis.
"Marco explained to us that over time this could go through a trust account, a lawyer trust account," she testified. "Because of lawyer-client privilege, the origin of that money could not be questioned."
Marisa also said Bisbikis was responsible for wiring money for real estate transactions on behalf of the couple, including a pawn shop that was purchased for $600,000 a few months before Dan's murder.
When it came to paying the lawyer for his services, the couple would give him stacks of cash – "$10,000 here, $10,000 there."