Islamic State group says one of its members carried out Manchester attack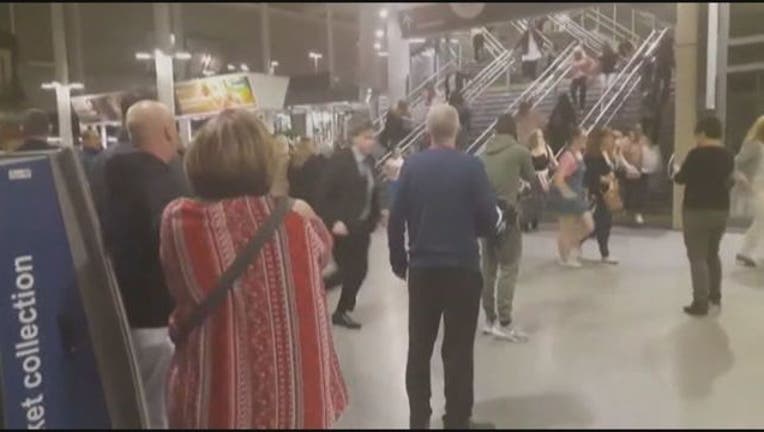 article
MANCHESTER, England (AP) - The Islamic State group says one of its members planted bombs in the middle of crowds in Manchester, England, where 22 people died in an explosion.
Police, however, have spoken only of "an improvised device" used in the attack.
IS says "a soldier of the caliphate planted bombs in the middle of Crusaders gatherings" then detonated them. It did not say whether the attacker was killed.
The group claimed that "30 Crusaders were killed and 70 others were wounded," higher than the totals confirmed by authorities in Manchester.
Police in Manchester say they've arrested one person in connection with the blast. 
For the young crowd of music fans, the Ariana Grande concert was supposed to be a night of high-energy candy pop and fun on a school night. The scene quickly turned into sheer terror when a bomb went off at the end, sending terrified parents into a desperate search for their loved ones.
A suicide bomber detonated his explosives as the American singer wrapped up her show Monday night in Manchester for thousands of her so-called Arianators, the name adopted by her fans -- many of them teenagers and `tweens.
Police said children were among the 22 people killed. About 60 others were wounded.
22 dead and 50 injured at Ariana Grande Concert in UK
Witness spoke of metal nuts and bolts strewn across the blast site, suggesting the attacker may have packed his explosive device with shrapnel -- a gruesome tactic to maximize casualties that was also used by suicide bombers in the Paris attacks that killed 130 people in 2015 and repeatedly in the Middle East and elsewhere.
Fans, many clutching pink plastic balloons, scrambled in panic for exits of the 21,000-capacity Manchester Arena.  Some half-climbed, half-tumbled over barriers in terror. Parents, who were waiting outside to pick up their children at the end of the show, waded into the fleeing crowds desperately hunting for loved ones.
Those with no news from those inside amid the mayhem took to social media, appealing for help. The hashtag (hash)MissingInManchester became a cry for assistance on Twitter, as family and friends hunted for loved ones.
United Kingdom leaders, celebrities react to deadly incident at Ariana Grande Concert in Manchester
In targeting Manchester, the attacker also struck at one of Britain's cultural hearts. The once gritty industrial city, with London and Liverpool, has been one of the main cultural influences on modern Britain, with its iconic Manchester United soccer team, its cross-city rival Manchester City and chart-toppers Oasis, The Smiths and other globally famous bands. Oasis singer Liam Gallagher tweeted that he is "in total shock and absolutely devastated."
Grande was physically unhurt, but described herself as "broken."
"From the bottom of my heart, I am so, so sorry. I don't have words," she said on Twitter.