Men who cheated in Ohio fishing tournament get prison time, lose $130K boat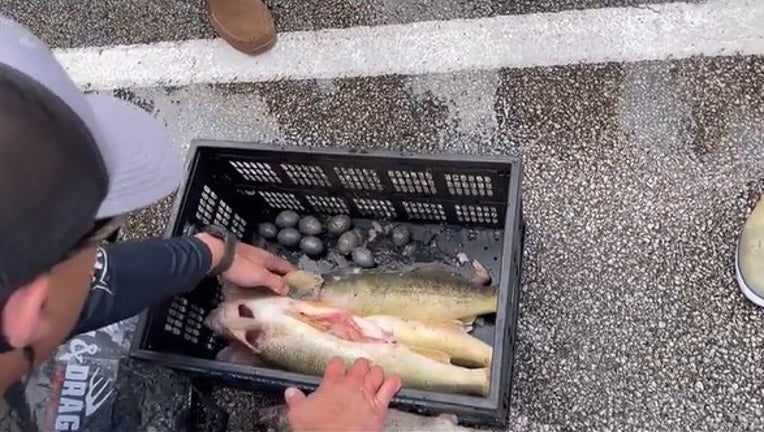 article
DETROIT (FOX 2) - Two men who cheated during a fishing tournament in Ohio by stuffing walleye with lead weights and fillets in an attempt to win the cash grand prize have been convicted of a felony and will spend time behind bars - plus they'll have to forfeit the $130,000 boat used during the tournament.
Jacob Runyan, 42, of Broadview Heights, Ohio, and Chase Cominski, 35, of Hermitage, Pennsylvania, both pleaded guilty to cheating at the Lake Erie Walleye Trail tournament on Sept. 30, 2022.
The two men caught several walleye and, before they were weighed, stuffed them with several lead weights. After weighing, which they beat the previous high mark by more than 16 pounds, the weights were found in the fish.
The tournament ruled the duo as winners after a weigh-in. However, Lake Erie Walleye Trail tournament director Jason Fischer noticed that Runyan and Cominsky's walleyes weighed more than they looked and sliced open the fish, authorities said. Ten weights were located inside the walleyes, eight weighing 12 ounces and two weighing 8 ounces, along with several walleye filets.
The duo have been widely suspected of cheating in the past. It's rumored they have won six figures in several tournaments, although the exact numbers are not clear. 
Runyan and Cominski would have received $28,760 in prizes for winning the tournament.
As a result of pleading guilty to charges of cheating and unlawful ownership of wild animals, they both will spend 10 days in jail, serve 18 months on community control, will lose their fishing licenses for three years, and forfeit Cominsky's $130,000 boat used during the tournament.
"I have no doubt that these two crooks cheated in multiple tournaments over the last several years. Unfortunately, we can only hold them accountable for what they did on September 30, 2022," said Prosecutor Michael C. O'Malley. "Although these two deserve to have their fishing license suspended for life, the law only allows a maximum of three years. These two should be banned from every fishing tournament for life. They are thieves and now they are convicted felons. This sends a message to the fishing community that cheaters will be held accountable in Cuyahoga County."
The count of cheating is a felony charge.