Metro Detroit mom who lost sons to fentanyl poisoning testifies before Congress
FOX 2 (WJBK) - A Metro Detroit mother testified before Congress after two of her sons were killed by prescription pain pills that ended up being laced with fentanyl.
"I lost my two sons - Caleb was age 20 and Kyler was age 18," said Rebecca Kiessling.
Kiessling, of Rochester Hills, testified before members of Congress - about the deaths of her two sons and their friend in an Auburn Hills hotel room - July 29th of 2020.
"I don't use the term overdose, because this was not an overdose - this was murder," she said. "My children got fake Percocets."
Fake Percocets - filled with deadly fentanyl.
"Law enforcement made it clear to me that this fentanyl came from Mexico," she said.
Kiessling testified before the Homeland Security subcommittee on border security.
"You talk about children being taken away from their parents - my children were taken away from me," she said.
Mexico and China have been blamed as being the main cause for the influx of fentanyl - a factor in many of the nation's overdose deaths, say The Centers for Disease Care and Control.
"We have a weather balloon from China going across our country - nobody died but everybody's freaking out about it," she said. "But 100,000 die every year and nothing is being done - not enough is being done - numbers are going up, not down."
Kiessling - an attorney and activist - implored lawmakers to increase security at the southern border and stop the flow of deadly fentanyl killing so many in our country.
"I didn't know that people were dying - I didn't know that my boys were taking anything that could kill them - they didn't think that they were either," she said. "This is a war - act like it - do something."
Reached after the emotional hearing, Kiessling said if her story doesn't move Congress to act - she hopes it moves someone.
"Hopefully it will raise awareness for people to demand something be done at the border - and for people to have talks with their kids - I mean I had talks with my kids but I didn't know about fentanyl - i didn't know about Narcan," Kiessling said.
But she's speaking out - so that others will.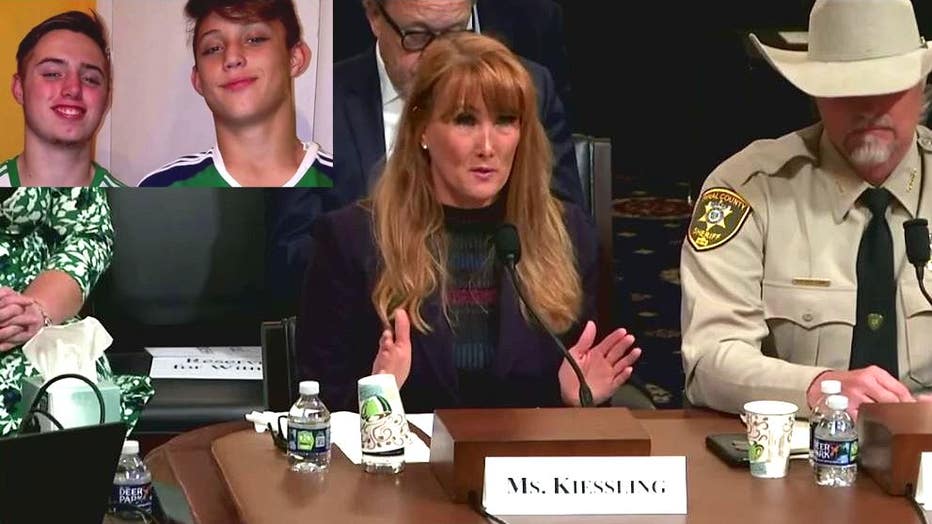 Rebecca Kiessling testifying before members of Congress. Inset: Her late sons Caleb and Kyler killed by fentanyl.