Michigan winter sports to resume Monday, Feb. 8, Gov. Whitmer announces
SOUTHFIELD, Mich. (FOX 2) - Michigan Governor Gretchen Whitmer announced on Thursday that the state's COVID-19 data is improving and a new epidemic order will allow winter contact sports to resume starting on Monday, Feb. 8.
FOX 2's Tim Skubick was the first to report Whitmer would make the announcement, alongside Chief Medical Executive Dr. Joneigh Khaldun, and MDHHS Director Elizabeth Hertel.
"We continue to make progress in reducing cases and hospitalizations, helping protect our families and frontline workers and saving lives. Now, starting February 8, contact sports can resume with safety measures in place," said Gov. Gretchen Whitmer. "Michigan continues to be a national leader in fighting this virus, and we must continue using a fact-based approach so we can return to a strong economy and normal day-to-day activities. One of the most important things Michiganders can do is to make a plan to get the safe and effective vaccine when it's available to you. And as always, mask up and maintain six feet of social distancing. We all have a personal responsibility to slow the spread of the virus so we can end this pandemic together."   
The order is in place through Monday, March 29.
Under the order, contact sports are allowed as long as participants are wearing masks during play or practice. For sports where masks cannot be worn and social distancing can't be maintained, all participants must be tested.
The decision to move the date up from February 21st comes during the same week that a lawsuit was filed against her original decision by parents and others. With the formal announcement from the governor, legal action will be taken to make the suit null and void.
Whitmer said the protest in Lansing last week, the lawsuit, and other planned press conferences did not factor into her decision and that her office is following the science and the data to make decisions like this.
All winter sports including basketball are covered by this decision which also includes a COVID testing program that was successfully implemented when the high school football season was restored after being shut down for some time. It's likely that coaches and players will be tested three times a week to monitoring any possible spread of the virus.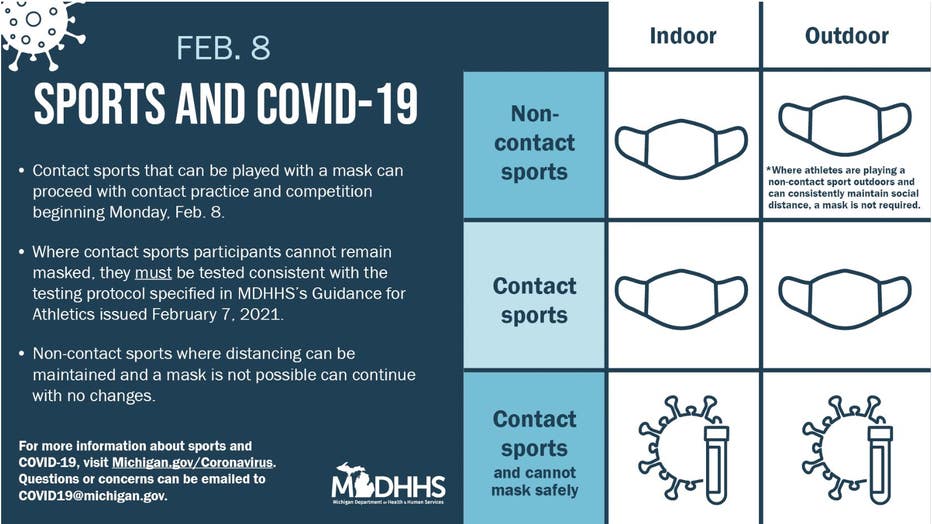 The governor has come under fire for the state's stance on winter sports and not allowing contact sports to play. She was criticized by Detroit superintendent Dr. Nikolai Vitti, who questioned her logic in maintaining the closure.
She had also faced criticism from the state GOP, who introduced the 'Let them play' resolution for winter sports. It was approved with bipartisan support but didn't hold any merit, in terms of changing the order.