Michigan quadruplets to serve in four different branches of the military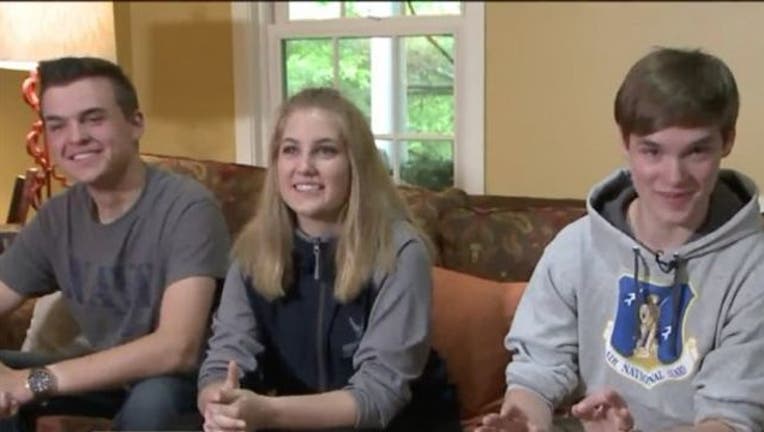 article
ADA, Mich. (WJBK) - A set of quadruplets in the Grand Rapids area have spent almost every day together for the first 18 years. Now, they're all going to join four respective branches of the military.
The Lees quadruplets - Bryce, Rose, Mason and Nevin --  will all become members of the U.S. Navy, Air Force, Air National Guard and Marine Corps, respectively. 
Rose Lees, the one bound for the Air Force, said she's sad to say good bye to her brothers.
"We've been pretty close ever since we were little, and now we're going down our own paths, so it's kind of sad," Rose said. 
She's working to become an emergency medicine doctor and has already said good bye to one brother. Nevin started training in North Carolina with the Marine Corps.
The quadruplets are inspiring each other to follow the footsteps of their grandfather and brother-in-law. 
"Ever since I was little I've always wanted to serve," said Rose, "I just want to help out our world."
Rose sat with Bryce and Mason and talked with FOX 17 in Grand Rapids. The three remaining quadruplets  reflected on their schooling together and made a point to thank their teachers.
"We have friends but we like to make deeper connections with I'd say our teachers," said Mason. "We kind of just get to know our teachers a lot better and get the connections. You don't realize people's lives are a lot different: they actually have stuff going on, not just grade our papers and stuff, they're actual people."
Get this - they're not the only lees family graduating from that school. The family has three other adopted siblings - all the same age as the quadruplets - and they're also graduating this spring.
That makes 7 Lees children who are proudly walking the stage.