Education Department punishes student loan servicer for error that made 800,000 borrowers delinquent
WASHINGTON - The U.S. Department of Education is punishing one of the largest student loan servicers in the country for failing to send on-time billing statements to millions of borrowers, resulting in thousands being late on payments as a result.
MOHELA, also known as the Missouri Higher Education Loan Authority, did not meet "its basic obligation" by failing to send billing statements on time to 2.5 million borrowers, the department said in a statement on Monday. 
The department said that of those 2.5 million borrowers, more than 800,000 became delinquent on their loans in October – which was the first month that student loan payments became due after the pandemic pause in March 2020. 
The Education Department said it would withhold $7.2 million in payment owed to MOHELA for October, and directed the servicer to place all affected borrowers in forbearance until the issue is resolved.
"In the meantime, we will adjust to zero any interest that accrues and credit them with progress toward public service loan forgiveness and income-driven repayment," Federal Student Aid (FSA) Chief Operating Officer Rich Cordray said in a statement. 
RELATED: Here are the states with the most student loan debt
U.S. Secretary of Education Miguel Cardona said oversight efforts uncovered errors from student loan servicers" that will not be tolerated."
"The actions we've taken send a strong message to all student loan servicers that we will not allow borrowers to suffer the consequences of gross servicing failures," Cardona added.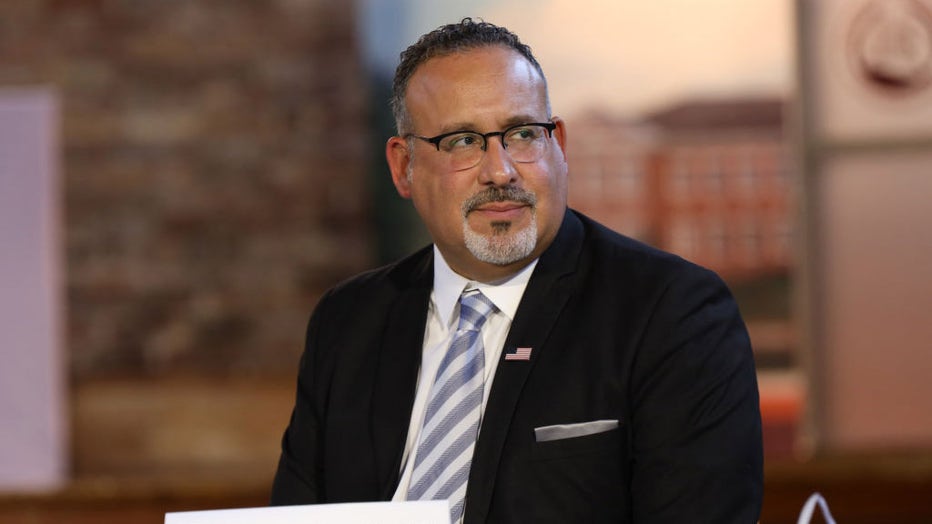 FILE - US Vice President Kamala Harris (not pictured) and U.S. Secretary of Education Miguel Cardona attend a panel discussion with nine outstanding scholars at Claflin University on Sept. 20, 2022, in Orangeburg, South Carolina. (Photo by Colin Myer
The action came on the same day as the Biden administration announced a move toward a narrower student loan relief plan that would target specific groups of borrowers — rather than a sweeping plan like the one the Supreme Court rejected in June.
On Monday, the Education Department released a draft of new federal rules paving the way for a second attempt at student loan relief. The proposal targets groups that are seen as especially vulnerable, focusing on those who owe so much, or make so little income, that they otherwise may never repay their loans.
Though full details are likely months away, the department said it wants to cancel some or all student debt for: borrowers whose balances exceed what they originally owed; those who have loans that entered repayment 25 or more years ago; those who used loans to attend career-training programs that led to "unreasonable" debt loads or insufficient earnings; those who are eligible for other loan forgiveness programs but did not apply.
The department said it will continue to refine the proposal as it goes through a federal rulemaking process. The public will be able to provide written feedback next year.
RELATED: Domino's giving away $1 million in free pizzas to customers with student loan payments
This story was reported from Cincinnati. The Associated Press contributed.