More than 432,000 DTE customers without power from ice storm
FOX 2 (WJBK) - About 432,000 DTE Energy customers are without power Thursday morning, thanks to an ice storm warning all of southeast Michigan is under.
A combination of sleet, rain and snow has hit the area hard, although DTE says there are more than 1,300 crews out in the field including many from bordering states offering extra aid.
In another example of the storm's impact, even DTE says that now a technical issue is preventing it from accessing outages, downed wire reporting.
Westland police and internet phones were reported down by the department as of 9 p.m. 
"We are currently working on correcting the problem. Please contact 911 for police services," a spokesperson from the department said.
Wires were down at 13 Mile Road and Franklin tonight, causing a fire in the woods. Firefighters put out the fire shortly after.
CLICK HERE for the DTE Outage Map for detailed info on areas without power.
"At DTE our largest concern is really the ice and how much ice is going to accumulate," said Matt Paul, VP of Distribution Operations.  "And then the combination of that ice with the wind."
Paul said the ice weighs down the trees and power lines, causing trouble.
More storm coverage:
Despite having models and research, Paul said predicting how bad the storm will be on our power infrastructure is "tricky."
"One degree up or down can make a huge difference in how much ice we see," he said. "And that is really what is going to dictate how  many outages we see in this event."
If you see a downed power line stay at least 25 feet away from it and assume every line down is live. Report it to DTE with this link HERE.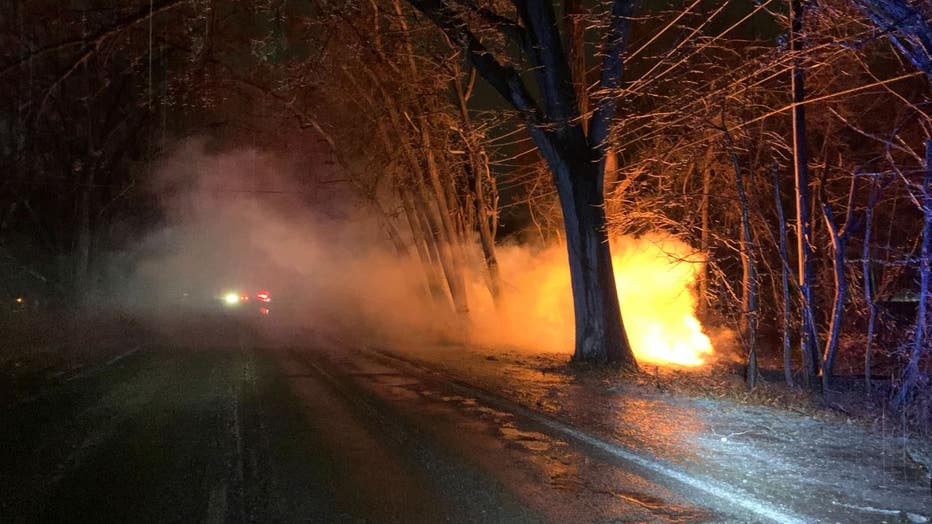 Wires down at 13 Mile and Franklin earlier Wednesday night. Photo submitted to FOX 2.