MSU Gospel Choir holds Worship Night to promote healing post-shooting
EAST LANSING, Mich. (FOX 2) - On the State Capitol steps and under the mighty dome, a gospel message was sent into the heavens in the name of healing.
The Michigan State University Gospel Choir hosted a Worship Night for anyone and everyone still reeling from the deadly mass shooting on campus on February 13th.
"To have what happened here a couple of weeks ago; to now have the atmosphere of worship to God means a whole lot because we're setting another atoning atmosphere," said Michelle McGregor, MSU alum.
"Every action has an opposite and equal reaction," said Loreal Hartwell, Saginaw. "And so when all of the terrible and tragic things happen, we have to show again that our faith is strong even in the midst of turmoil and calamity."
For some there, the intersection of the tragedy and their faith is all too real.
Some of the choir members were supposed to be at Berkey Hall the night shots ranging out.
"The young lady who God gave this event to, Ana, the one who keeps speaking, Ana Johnson was supposed to be there for a study group and because our car was broke down she was waiting on someone to get her, and she never made it," said McGregor. "It's truly a blessing that God protected her because she was supposed to have been there."
Michigan State is moving forward by adding locks to more than 1,300 classrooms and will bring in more security cameras on campus following the shooting that took the lives of Arielle Anderson…Alexandria Verne and Brian Fraser.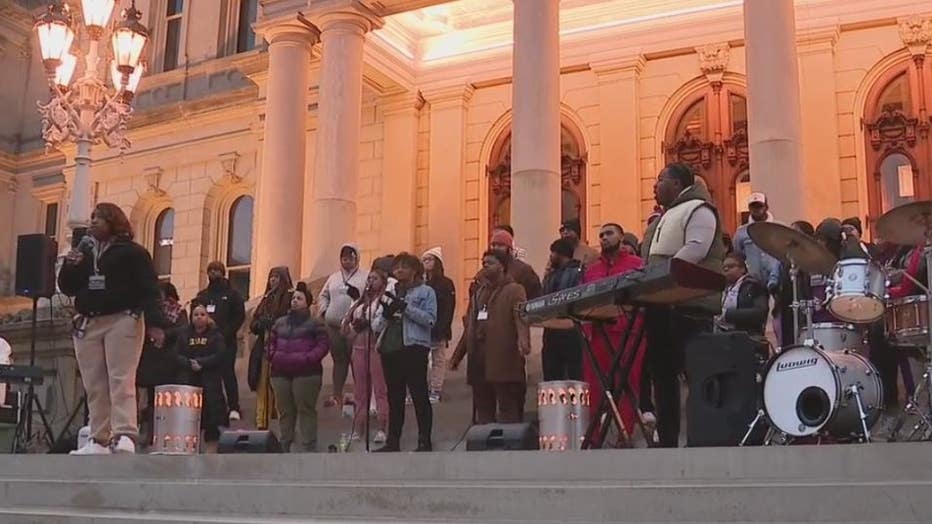 But while the school moves on with policy changes many are staying grounded in the spiritual support they connected with Thursday night.
"Definitely I feel healing is here. We just wanted to lend support to these students, the faculty, definitely, the parents that lost loved ones."
Some state lawmakers were moved by the worship after wrapping up their business week.
"We always are talking about bipartisanship and coming together and I really believe that God can bring us together," said Rep. Donni Steele (R). "And so I wanted to almost be healed, because there's so much going on in this town right now with Michigan State, in the House and in the Senate, and the divisiveness."
"One thing that I do know, that these young people at Michigan State need hope," McGregor said. "And this is just one drop of hope that is being spread out."