Oxford school shooting: Judge to decide soon if district employees can be sued in civil case
PONTIAC, Mich. (FOX 2) - Legal teams argue Wednesday whether employees of the Oxford High School can be sued in the pending civil case against the district over the mass shooting that happened in 2021.
The issue of governmental immunity was front and center during the hearing in Oakland County Circuit Court in Pontiac. A judge is weighing whether employees of the Oxford School District who were named as defendants in the case can be sued. 
Judge Ellen Brennan said she will have a decision "sooner rather than later" after hearing arguments. 
Attorney Ven Johnson is representing multiple families of victims of the mass shooting, which left four kids dead and several others injured, including a teacher.
Families of Tate Myre and Justin Shilling, two of the teen victims killed by shooter Ethan Crumbley, are accusing the school district of failing to protect students. School counselors and administrators were both named in the lawsuit. 
Among the allegations were that school employees ignored signs from Crumbley that indicated the teen was mentally unwell and showing an obsession with violence and guns. Both the teen and his parents James and Jennifer are also named in the suit. 
"Here, the defendants were in no position to see that Ethan (Crumbley)'s continued attendance at school would result in this murderous rampage," said attorney Tim Mullins.
Mullins represents the Oxford personnel, he says, the concept of Governmental Immunity -doesn't allow for them to be sued.
"Here, the facts, legal and factual, establish the plaintiffs' injuries were caused by Ethan Crumbley," he said."
Attorney Ven Johnson, who represents five families of victims of the November 2021 shooting says the jury should be allowed to determine if Oxford teachers, counselors, and others were grossly negligent despite Governmental Immunity.
"For this court today to rule that the government tort liability precludes us from filing this lawsuit would be, in our opinion, respectfully, under the law, an error," he said.
And sometimes the arguments got a little heated.
"I don't care. I really don't, it's not about me," said Judge Mary Ellen Brennan.
"No, it's important," Johnson said.
"Mr. Johnson, it's not about me - it's not about you sir, it's not about Mr. Mullins," Brennan said. "It's not."
Afterwards, Johnson said the exchange was nothing out of the ordinary.
"I was doing my thing, and she was doing her thing," he said. "Welcome to the real live courtroom."
RELATED: Oxford High School shooting: Security guard accused of failing to act added to lawsuit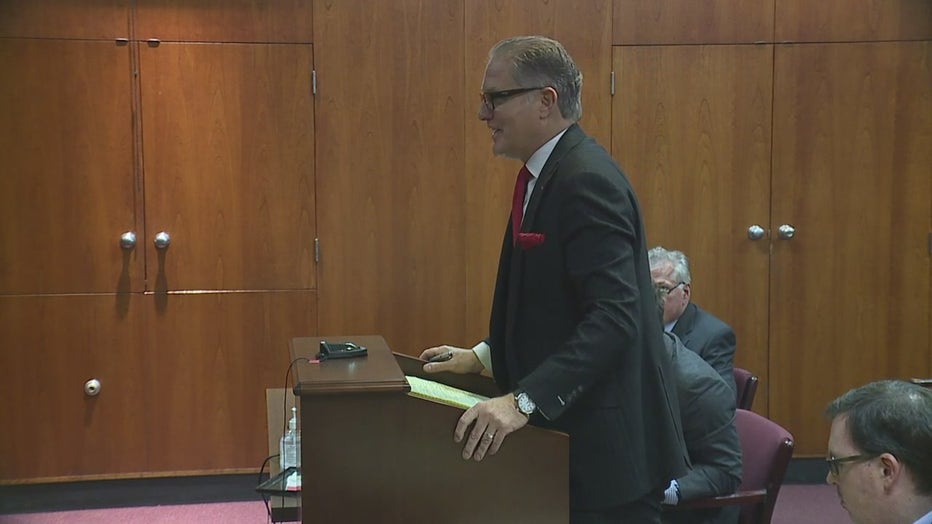 Attorney Ven Johnson argues in Oakland County Court. 
Defendants named in the case include Pam Parker Fine and Shawn Hopkins, two school counselors who had interactions with Crumbley before he started shooting. Dean of Students Nicholas Ejak was also named, as well as three unnamed teachers. 
More Oxford School Shooting stories: