Paczki Day Vodka returning for 2023 - here's how to order a bottle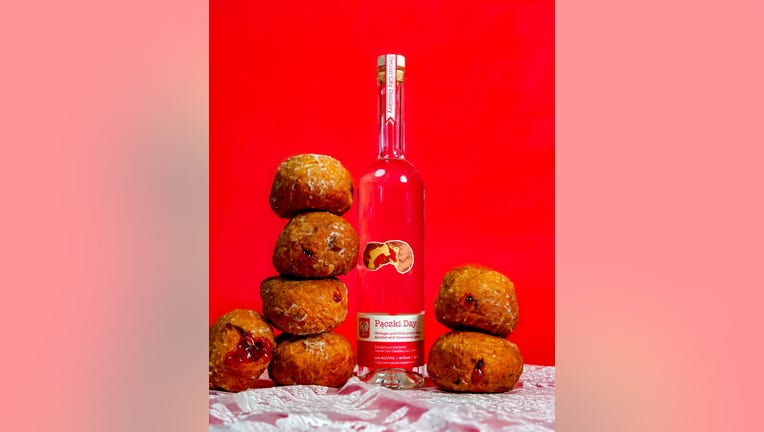 article
DETROIT (FOX 2) - The appetizing traditions of Fat Tuesday are returning this February with the annual release of Pączki Day Vodka, a staple of the Polish holiday that sweeps through bakeries in Southeast Michigan.
Detroit Distillery, which produces the vodka variety plans to put the alcohol up for sale on Feb. 3. 
Anyone enticed by the drink that hasn't already had a sip should be aware it's popular, and it sells out fast. This year plans to be no different.
"Every year, Steve Orzechowski, our resident distiller of Polish descent, fires up the still to make you a very special treat for Fat Tuesday....Pączki Day Vodka," the website said.
According to Detroit City Distillery, the vodka is made using raspberry pączki from the New Palace Bakery. They're distilled using both Michigan and Polish potato vodka. 
In 2021, the distillery sold 4,000 bottles in just 22 minutes - an impressive achievement considering the vodka debuted in 2020. In 2022, the distillery sold out in 77 hours.
"It's been incredible to see Pączki Day Vodka become a tradition within Michigan's Polish community and watch the sensation grow nationwide," said Michael Forsyth, co-owner of Detroit City Distillery. "People travel from all over America to get their hands on this once-a-year spirit and celebrate with their Polish comrades. It's a special thing when a spirit brings people together. 
"This year, we're excited to get Pączki Day Vodka to more Polish communities across the country via partnerships that support direct-to-consumer shipping so we can continue to gauge the demand nationwide."
Each bottle costs $35 and will go on sale at 8 a.m. on the distillery's website. From there, buyers will be able to pick up their online orders in person at the tasting room, which is located at 2462 Riopelle Street in Detroit's Eastern Market. Pick-ups begin at 4 p.m.