Pistons take Ausar Thompson at 5 in NBA Draft; trade up to draft Marcus Sasser at 25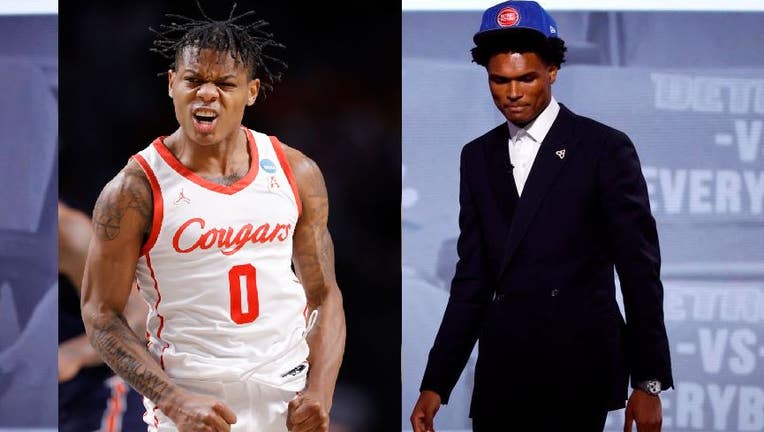 article
FOX 2 (WJBK) - The Detroit Pistons selected Ausar Thompson of Overtime Elite with the fifth overall pick of the 2023 NBA Draft. 
But the Pistons weren't done there, trading up to select guard Marcus Sasser from Houston in exchange for pick 31 and future second-round picks to the Celtics.
Thompson, at 6-foot, 7-inch, 215 pounds, has made his mark as a sleek, athletic swingman with a nose for defense but averaged 16.3 points, 7.1 rebounds and 6.1 assists.  The 20-year-old, who played for the City Reapers of Overtime Elite, is the first pick under new head coach Monty Williams as the Pistons try to bounce back from a league-worst 17 wins a season ago. 
Sasser is a 6-foot, 1-inch combo guard who is a energetic two-way player. Sasser averaged 16.8 points and 3.1 assists while shooting 38 percent from the three-point line. 
At pick No. 4, the Houston Rockets drafted his brother, guard Amen Thompson and it's the first time twins went in the top 10 of the same NBA Draft.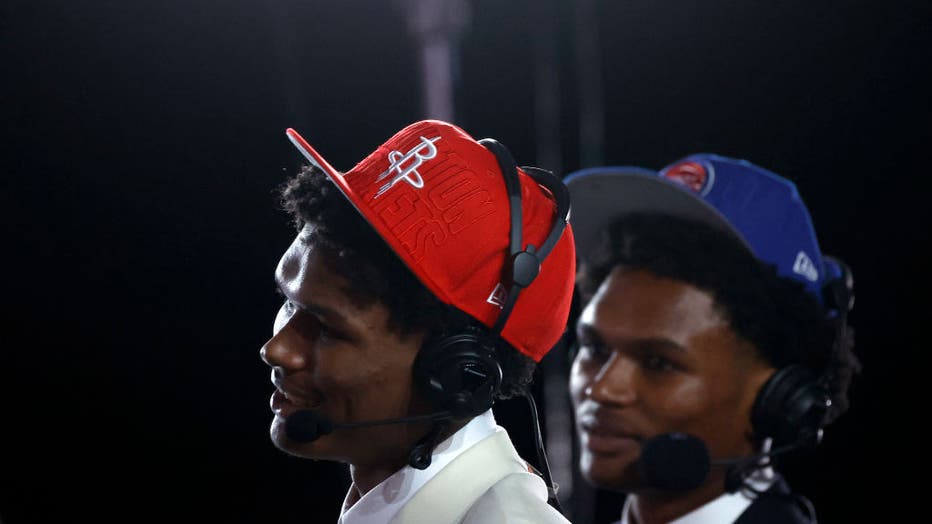 NEW YORK, NEW YORK - JUNE 22: (L-R) Amen Thompson and Ausar Thompson talk to the media during the first round of the 2023 NBA Draft at Barclays Center on June 22, 2023 in the Brooklyn borough of New York City. NOTE TO USER: User expressly acknowledge
There's almost enough twins in the NBA right now for a full roster, now that Amen Thompson and Ausar Thompson got drafted Thursday night. This past season, there was Brook Lopez and Robin Lopez, Marcus Morris and Markieff Morris, Caleb Martin and Cody Martin, along with Julian Champagnie and Justin Champagnie.
Kris Murray of Iowa is expected to be drafted Thursday as well; he's the twin of Sacramento Kings forward Keegan Murray.
University of Michigan standout Jett Howard, the son of head coach and fellow Wolverine standout Juwan, was selected by the Orlando Magic at number 11.
Center Victor Wembanyama, the most hyped prospect since LeBron James, was selected by San Antonio Spurs with No. 1 pick in NBA Draft.
The selection of the 19-year-old from France which had been a foregone conclusion for months was announced by NBA Commissioner Adam Silver on Thursday night at Barclays Center in Brooklyn, followed by chants of "Wemby! Wemby" from a group of Spurs fans waving signs from the first row of seats. 
Wembanyama arrives with far more height and hype than most No. 1 picks. Listed at 7-foot-4, he dominated his French league in his final season there, leading all players in scoring, rebounding and blocked shots.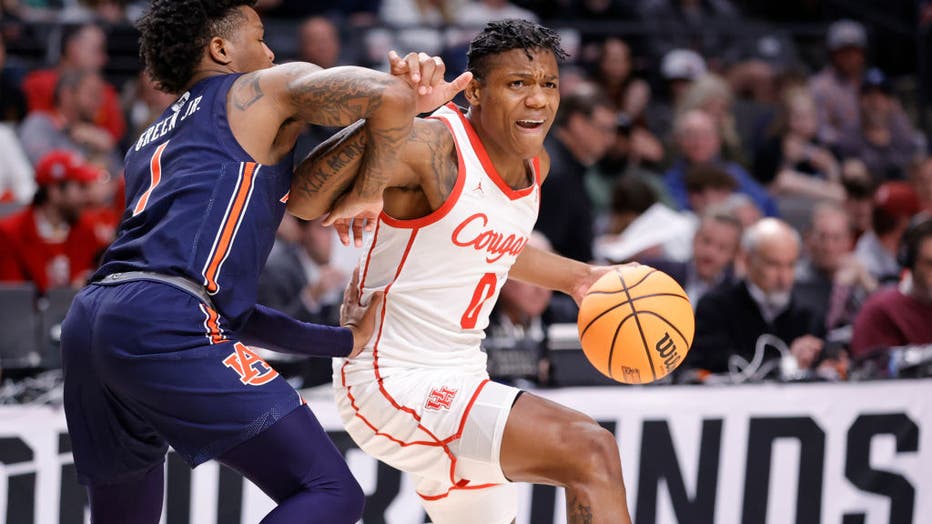 BIRMINGHAM, ALABAMA - MARCH 18: Marcus Sasser #0 of the Houston Cougars drives against Wendell Green Jr. #1 of the Auburn Tigers during the first half in the second round of the NCAA Men's Basketball Tournament at Legacy Arena at the BJCC on March 18
Now he makes the move to the NBA, perhaps as the best prospect since LeBron James came out of high school in 2003. Wembanyama brings a package of skills that seem perfect for the modern NBA and too vast for one player, with the size of a center and the shooting and ballhandling ability of a guard.
Dynamic freshman forward Brandon Miller from Alabama was selected second by the Charlotte Hornets. Miller at 20 years old, is an athletic 6-foot-9 wing with a smooth shooting stroke who can knock down shots from the perimeter and was the Southeastern Conference's player of the year.   
Explosive G League Ignite scoring guard Scoot Henderson was picked third by the Portland Trail Blazers. 
At pick No. 4, the Houston Rockets drafted guard Amen Thompson of the City Reapers of Overtime Elite. 
In four professional seasons in France, the 19-year-old Wembanyama showcased his versatility as a skilled ball handler, 3-point shooting range, the ability to rebound and block shots with an 8-foot wingspan and impressive athleticism. During those four seasons, averaged 12.8 points, 6.7 rebounds, 2.3 blocks and 1.4 assists while continuing to improve.
This season, Wembanyama was named MVP and Defensive Player of the Year after leading the French league in scoring, rebounding and blocks for the Metropolitans 92.

FIRST ROUND 
1. San Antonio, Victor Wembanyama, c, Metropolitans 92 (France).
2. Charlotte, Brandon Miller, f, Alabama.
3. Portland, Scoot Henderson, g, G-League Ignite.
4. Houston, Amen Thompson, g, Overtime Elite.
5. Detroit, Ausar Thompson, g/f, Overtime Elite.
6. Orlando, Anthony Black, g, Arkansas.
7. a-Indiana, Bilal Coulibaly, f, Metropolitans 92 (France).
8. b-Washington, Jarace Walker, f, Houston.
9. Utah, Taylor Hendricks, f, UCF.
10. c-Dallas, Carson Wallace, g, Kentucky.
11. Orlando (from Chicago), Jett Howard, g, Michigan.
12. d-Oklahoma City, Dereck Lively II, c, Duke.
13. Toronto, Gradey Dick, g/f, Kansas.
14. New Orleans, Jordan Hawkins, g, UConn.
15. Atlanta, Kobe Bufkin, g, MIchigan.
16. Utah (from Minnesota), Keyonte George, g, Baylor.
17. L.A. Lakers, Jalen Hood-Schifino, g, Indiana.
18. Miami, Jaime Jaquez Jr., f, UCLA.
19. Golden State, Brandin Podziemski, g/f, Santa Clara.
20. Houston (from L.A. Clippers), Cam Whitmore, f, Villanova.
Proposed Trades 
a-Indiana from Washington.
b-Washington from Indiana.
c-Oklahoma City from Dallas.
d-Dallas from Oklahoma City.

 It marks the third time in San Antonio's 51-year history that the Spurs have held the No. 1 pick. They are hoping Wembanyama fulfills predictions that he is a generational big man and follows in the championship footsteps of the franchise's previous top picks of David Robinson in 1987 and Tim Duncan in 1997.
-The Associated Press contributed to this story.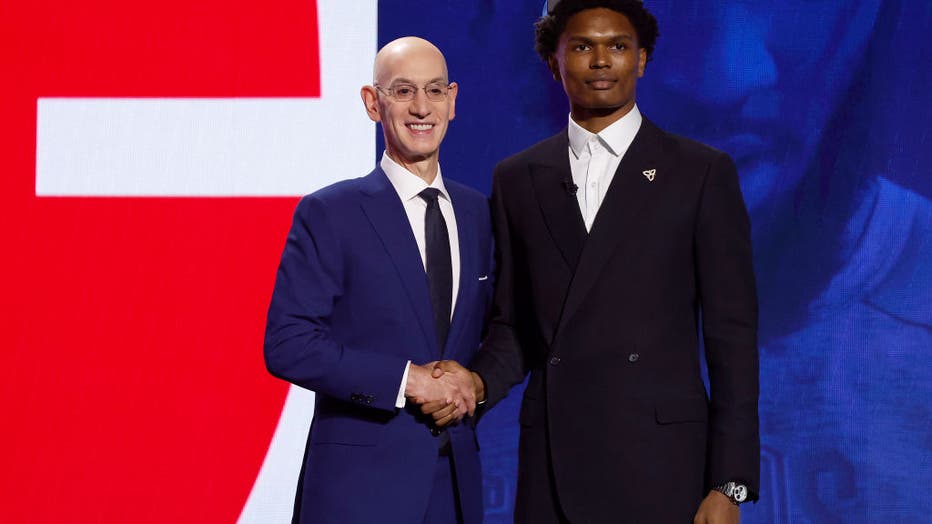 NEW YORK, NEW YORK - JUNE 22: Ausar Thompson (R) poses with NBA commissioner Adam Silver (L) after being drafted fifth overall pick by the Detroit Pistons during the first round of the 2023 NBA Draft at Barclays Center on June 22, 2023 in the Brookly