Power outages cause Bloomfield Township hair salon to lose week of business
BLOOMFIELD TOWNSHIP, Mich. (FOX 2) - The power at Pure Hair in Bloomfield Township went out Feb. 22 and the salon stayed dark for a week.
"On Wednesday it said it would be fixed on Friday," owner Kate Cibor said. "Friday we then got an update that it wouldn't be on until Sunday, so then we made more phone calls, text messages to let people know that we would not be open. So, Sunday we're thinking for sure that's going to be done."
But it wasn't.
"We thought for sure we would be able to work today, but then we got another message saying it wouldn't be on until Wednesday at the end of the day, 11," Cibor said. "We love to work we love to service our community, and we cannot do that with no power."
While some other businesses in the plaza were working thanks to generators or being on different grids, the salon was without power for a week.
Related: DTE giving automatic $35 credits to some customers who lost power
"I went on Twitter, I tagged DTE very politely asking them to help our small businesses in our plaza. I did not get a response from DTE," Cibor said. "It was definitely a confident trying to connect with them, and I'm hoping that that helped, but I'm not sure if it would've been done as quickly. I mean we were really on them."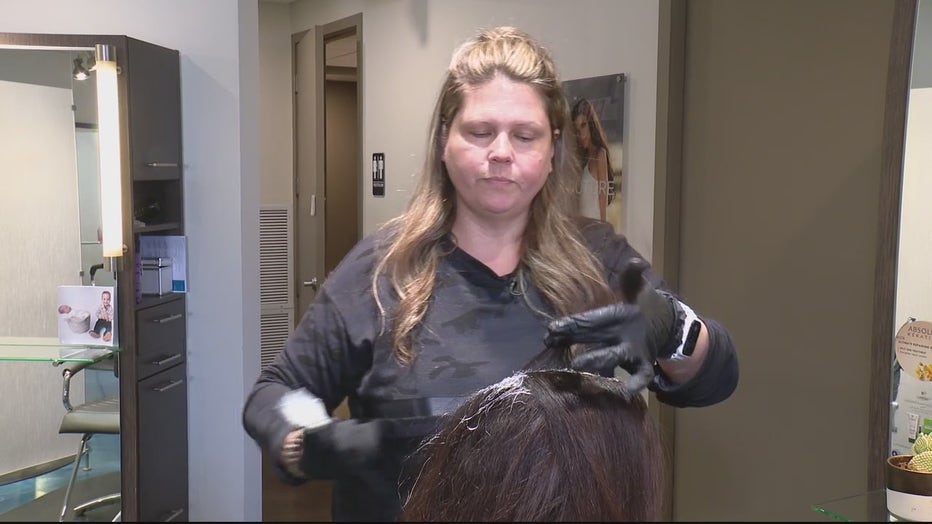 Kate Cibor does hair at her salon, Pure Hair, in Bloomfield Hills. 
Wednesday, the power was restored.
For Cibor, who is still recovering from the impacts of the Covid pandemic, losing a week's worth of business is a challenge. She said she had to call about 30 clients each day her salon was closed.