President Trump to visit metro Detroit on Thursday with stop in Warren
FOX 2 - President Donald Trump is headed to back Michigan next Thursday with an event set for Dana Corp. in Warren.
Trump is expected to make a stop at Dana Corp. on Thursday, Jan. 30, according to a White House source. The same source said Trump will be attending a late afternoon event at Dana Corp. on Van Dyke in Warren, but more details were not released.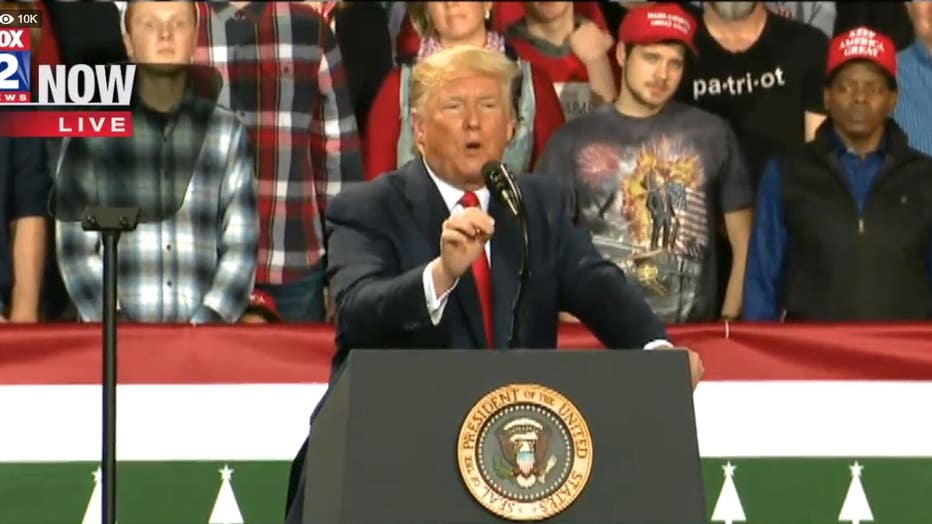 File photo of President Donald Trump in Battle Creek on Dec. 18, 2019.
Dana Corp. is a supplier of axles, driveshafts, transmissions, and electrodynamic, thermal, sealing, and digital equipment for conventional, hybrid, and electric-powered vehicles, according to their site.
It's not know if President Trump's visit will be a speech or if it will be open to the public.
The president was last in Michigan on Dec. 18 in Battle Creek - the same night the House voted for impeachment. 
In 2016 Michigan emerged as a key battleground state in Donald Trump's path to election victory, including winning former Democratic stronghold Macomb County. In that election, Trump won the state by 13,107 votes.
As campaign trails ramp up for 2020, Michigan again appears to be in the spotlight for stump speeches by the president and his challengers.
Macomb County is the third-largest county in the state and last voted Republican in 2004 for George W. Bush, prior to 2016.