Trump touts economy's comeback, says we've turned Covid corner at Waterford stop
(FOX 2) - As coronavirus cases have been spiking, President Donald Trump said we are rounding the corner he said Friday at another Michigan campaign stop.
Trump made the comments at the Oakland International Airport in Waterford today as COVID-19 messaging is key with the race heading to the Nov. 3 election finish line.
"We've got to get our governor to open up the state here don't we," Trump said. "Don't worry on Nov. 4, they will announce all these Democrat-run states will be open. 
The rally included familiar chants we have heard before at rallies the president has held in Michigan as he referenced measures put in place by Governor Gretchen Whitmer and others 0to mitigate the effect of surging and now record COVID-19 infections.
It is rhetoric Whitmer said is endangering her and other public officials especially in the backdrop of a foiled plot to kidnap the governor.
"I will eradicate the virus and make the economy better than it has ever been," Trump said.
President Trump touted better than expected economic numbers saying he built the best economy in the history of America... which economists acknowledge was very good based on many metrics before the pandemic - but not the best. However, GDP grew at a record rate last quarter at 33.1 percent, on an annualized basis.
"This election is a matter of economic survival for Michigan because Joe Biden - look at what they did in their eight years."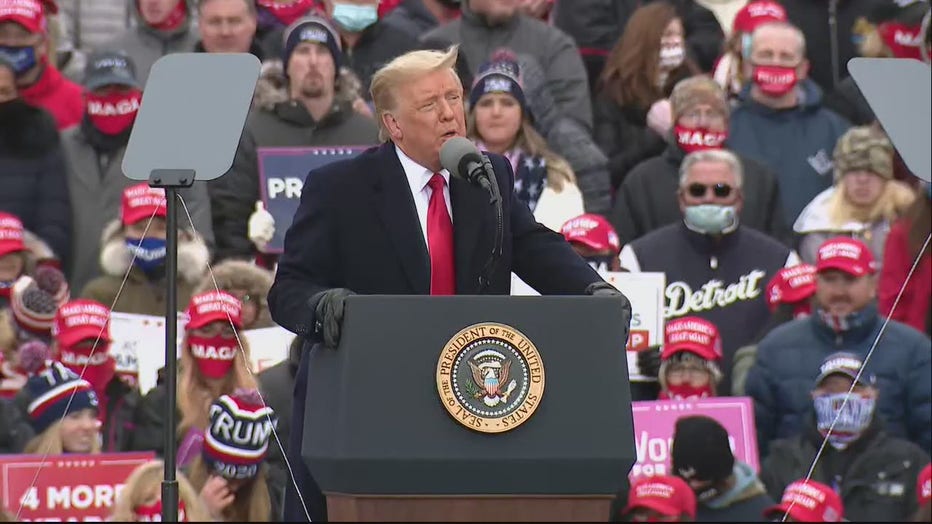 President Donald Trump in Waterford Friday.
One thing President Barack Obama and former vice president Joe Biden accomplished during their term in office, the Affordable Care Act which gave millions health insurance. Obamacare is now threatened by litigation and heading to the US Supreme Court on November  10th.
The Trump campaign's press communications director Erin Perrine spoke about the ACA.
FOX 2: Does the president have a plan if the ACA is struck down to get something in place to make sure during this global pandemic that (those Americans) would be covered?"
"President Trump has made clear that he wants to make sure to protect those with pre-existing conditions," said  Perrineare. "When the legislative process wants to move expeditiously, it absolutely can." 
Two million people have already voted in Michigan so for both Biden and Trump it will come down to turning out the base on Nov. 3.
President Donald Trump is heading to Michigan for another visit ahead of the election. 
Michigan is said to be one of the key battleground states that will help decide the election, with 16 electoral votes at stake. All eyes are on voters this year - which includes a record number of absentee voters - after Trump flipped the vote in the 2016 election. 
Joe Biden will also be making a stop in Michigan in the days leading up to the election. 
He'll even be joined by former president Barack Obama this weekend at a campaign event on Saturday, October 31. 
Details about the location and time of the event have not yet been released. The two are set to talk about "bringing Americans together to address the crises facing the country and win the battle for the soul of the nation."