Protesters clash with bailiffs while trying to stop Detroit tiny home eviction
DETROIT (FOX 2) - Protestors showed up at a Detroit tiny home Tuesday and clashed with bailiffs in an attempt to stop an eviction.
"As you can see all my (expletive) is on my lawn, and I'm being evicted," Taura Brown said.
According to court records, 44-year-old Brown has been taken to court at least nine times by different landlords in two counties for numerous tenant violations, including unpaid rent. 
This time, she has been in a court battle with Cass Community Social Services, the owner of her tiny home. She qualified for this home because she said she has Stage 5 kidney disease.
Last month, the court sided with Cass Community Social Services after claims that Brown didn't live in her tiny home more than 50% of the time and her name was on another lease in the city, which the court determined violated their agreement.
"There are people that are home even less than me, and they are not facing eviction, this is personal," Brown said.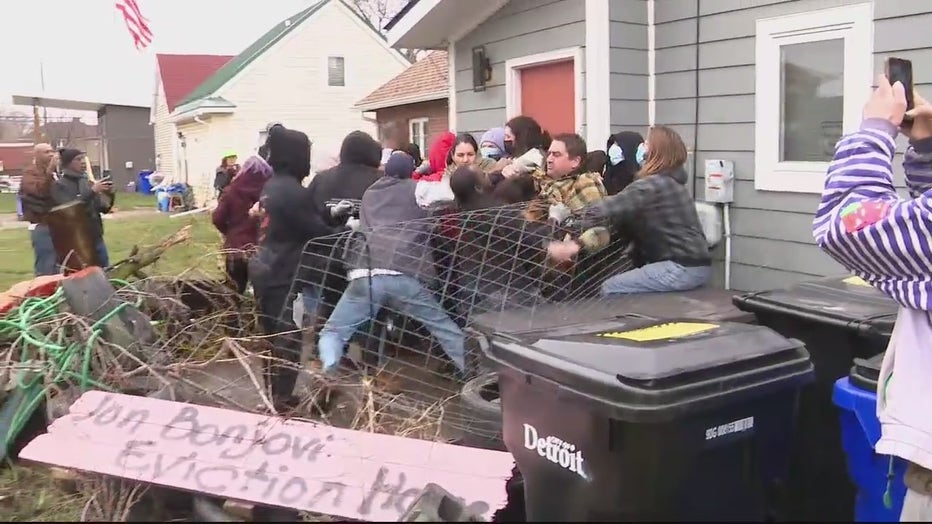 She claims she is being evicted after blowing the whistle about issues with Cass Community, a nonprofit.
Detroit Eviction Defense is siding with Brown.
"It's just extremely frustrating, heartbreaking. I feel really angry," said Sammi Lewis, with Detroit Eviction Defense.
There was a clash during the eviction, but bailiffs eventually got Brown's belongings out of the house.
"We are here only to keep the peace. We are not here to evict anybody, that is not part of the role of the Detroit Police Department," said Detroit Police Deputy Chief Deshawne Sims. "We did have to engage on a couple occasions to separate the parties, so the bailiffs could do their job."
Brown says this fight isn't over.
"I'm feeling confident fighting back. We are not done. We are just getting started," she said. 
36th District Court released a statement:
"Over the last 19 months, Taura Brown's case went through the judicial system and all proper legal procedures were followed. At each step, Ms. Brown exercised her rights as a tenant and received due process. Based on the merits of the case, 36th District Court Judge Shawn Jacque ruled that the plaintiff had no further legal right to remain in possession of the Monterey Street property. 
"There are always legal remedies to appeal a judge's decision whenever a party believes that a judge has ruled incorrectly. Ms. Brown's appeal to the Third Circuit Court was denied in October of 2022. The Court is sympathetic to all parties involved, and it is unfortunate when an individual is evicted, but the role of the Court is to follow and enforce the laws of the State.    
"Any violence specifically aimed at 36th District Court Officers who are performing a legal activity based on a Judge's Order is unacceptable and won't be tolerated. Just two weeks ago, two officers were shot and injured with an assault weapon while in the course of their normal duties. One of the Officers involved in that incident was present today, again facing danger while trying to do his job.  It has become dangerous for these Court Officers to work, and such violence must not continue. 
"While the Court respects the right of these individuals to protest, we do not condone violence. These Officers possessed a lawful Court order to proceed with this eviction, and any individuals who physically interfered with its execution only succeeded in inciting an altercation. There are legal ways to have your voices heard, and today's incident was not productive. 
"The 36th District Court remains committed to the equitable administration of justice. Counsel is now afforded to every tenant at the first hearing, and other improvements to the administrative process are currently being implemented to ensure the efficient processing of cases. Violent escalations do nothing to aid in these efforts, and must cease."